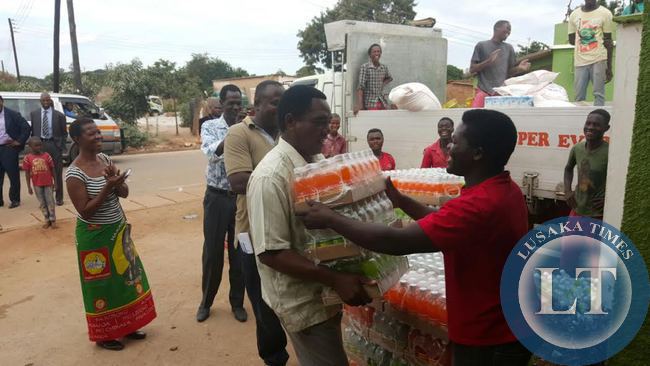 We need to address the challenges that hinder the promotion of local producers and products so that they are not disadvantaged by cheap imports that lead to the closure of companies such as Mulungushi Textiles. Mulungushi was a key employer in Kabwe, says UPND President Hakainde Hichilema.
Speaking when he met Kabwe's Bwacha Constituency residents and toured the defunct Mulungushi Textile, Mr. Hichilema said there was currently a lot of cheaper imported fabric of low quality in the country that has killed the local industry.
The UPND leader, who was accompanied by Party Vice-President Geoffrey Bwalya Mwamba, former Lubasenshi Member of Parliament Patrick Mucheleka, former MMD National Secretary Maj. Richard Kachingwe and the local leadership, disclosed that he has already identified and engaged some local and foreign investors to reopen Mulungushi Textiles.
The UPND leader said once Mulungushi Textile was reopened it will immediately create a lot of direct jobs for the local people in Kabwe.
He said there will also be a lot of indirect jobs in the textile industry such as those for cotton farmers in the country and citizens involved in making various types of linen and fabric products.
The UPND leader said it was shameful that even the party regalia for various political parties, security personnel uniforms, and all types of wear in the country was being imported from outside when a company like Mulungushi Textile had overgrown grass and was now a bush.
And UPND Vice President for Administration Geoffrey Bwalya Mwamba said he would make sure Mr. Hichilema fulfilled the promise for the Kabwe people of reopening the plant and other sectors so as to provide jobs for our people.