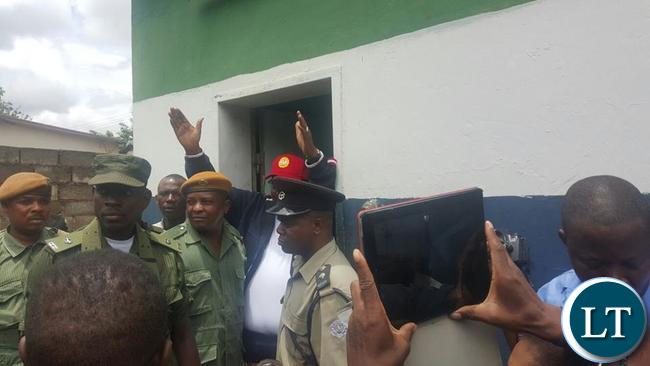 UPND Vice President Geoffrey Bwalya Mwamba who was earlier today detained at Woodlands Police Station has been released after meeting bond conditions.
Mr Mwamba was released on K50,000 bond plus two sureties. The sureties were Mazabuka Member of Parliament Gary Nkombo and his Solwezi West counterpart Teddy Kasonso.
GBM was earlier charged and arrested for unlawful drilling contrary to the laws of Zambia.
And UPND President Hakainde Hichilema accused President Edgar Lungu of trying to avoid an election by declaring a state of emergency.
Mr Hichilema who was part of the crowed which went to the Police Station to offer solidarity to GBM said the police wanted to take them to the industrial area so that PF cadres can shoot at innocent citizens and create confusion to give President Lungu a reason to declare a state of emergency and avoid elections.
"Today they wanted to create a situation were they would take us from here to the industrial area and in the process allow the PF cadres to start shooting at innocent citizens then he declares a state of emergency so that he can avoid an election," he said.
He also said the UPND had no capacity to train militia and that if there is any militia in the country try then it was in the ruling party.
"There is no militia, if there is any militia then it can only be in the ruling party, UPND has no capacity to generate a militia," he said.