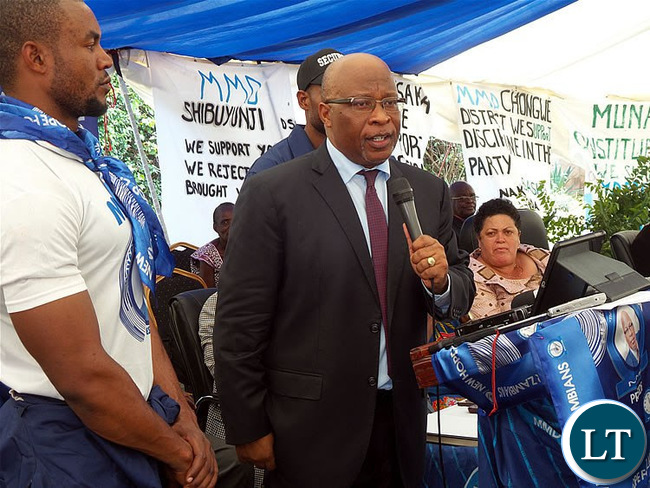 MMD President Nevers Mumba says the members who where expelled and have continued to cause confusion within the party are scheming to form their own political party.
Speaking at a media briefing at the party secretariat in Lusaka yesterday Dr Mumba said the party is aware that members who have been expelled have gone to register a party with the registrar of societies.
He urged them to be men enough and come out in the open as opposed to inflicting pain in the former ruling party.
He said there are members who consider themselves as giants of the former ruling party but have forgotten that they are giants today because the party made them who they are.
He warned the expelled members not lay their hands on what he termed the New MMD adding that he will face whoever wants destroy the former ruling party squarely, regardless of how much money they have or how powerful they think.
He said those accusing him of failing the party are just wasting their time because he will not allow other people to write his history adding that he had not failed as the leader of the former ruling party as he was the only person who stood against late president Micheal Sata when everyone was cowering.
He also wondered why other political parties have continued to say that MMD is dead but keeps looking for alliances with the party.
Meanwhile Dr Mumba has announced that he is also considering picking a female running mate and that 40% of adoptions will go to the women as the party moves towards achieving fifty- fifty representation in key governance positions.
He further called on youths to apply for adoption saying the party would like to see young people as MPs and other electable positions in the governance structures of the country.
On alliances Dr Mumba said the party will only go into alliance which is mutually beneficial and where party will be treated as equals who would add value to the alliance.