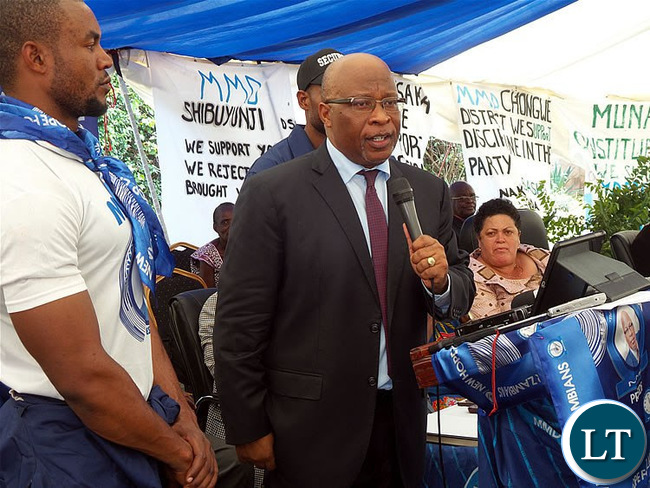 PRESS BRIEFING BY MMD PRESIDENT DR. NEVERS SEKWILA MUMBA
ON 9TH MARCH 2016 AT PARTY SECRETARIAT
Members of the National Executive Committee (NEC) of the Movement for Multiparty Democracy (MMD), Members and supporters of the MMD, Members of the Media Fraternity, Representatives from the Church, The Zambian Electorate, Ladies and gentlemen.
I am delighted to be here, and I am particularly delighted to be here on this occasion. We meet here, at our Party Secretariat which freshly bears the scars of being embattled as the broken and shattered window panes around us show, in a city known to be the seat of power, before an entire nation searching for answers. I cannot help but note that although in the eyes of some, we may appear embattled, the leadership of the MMD today remains firmly in control of this, our seat of power, and we are ready to offer the answers for all the questions that the people of Zambia are asking today.
AGAINST ALL ODDS
It is truly against all odds that after all the lows, after all the betrayals and after all the humiliation we have suffered in the defense of our beloved party and in the fight for a better Zambia, we are still here. Ours has been a journey for the brave and for the determined in order to change fortunes not only for our party, but also to provide the much needed alternative leadership for our beloved nation, Zambia.
Along the way, we have lost some of our finest colleagues who simply got tired; tired of waiting and tired of watching us lose one by-election after another; tired of watching us get thrown in cells and prisons; tired of having their businesses targeted after our 2011 loss; tired of losing friends who had seemed to love them while in government. It is a bitter reality of life that no one wants you when you lose.
It is for this reason that today, on this momentous occasion of the launch of our countrywide invitation for Aspiring candidates wishing to apply to stand for the Parliamentary and Local government seats on the MMD ticket, I would like us all to take some time to reflect on on what we have gone through. After so many attempts by dissenting groups who have tried to vanquish this Nevers Mumba led MMD, we need to ponder this question; why are we still here? What are these insidious forces fighting for in a Party thats been accused of being finished?
There are a few people out there that believe that our party has undergone too many fractures and splits and that it cannot possibly be relevant in today's political dispensation. In fact, it is argued that since I took over the presidency, we have lost so many perceived political "heavyweights" to other parties and because of that, we cannot possibly be ready to take part in the forth-coming elections in August as a united force. It is said that there are too many odds stacked against us. Today, some of our enemies would like to suggest that there are only a few good leaders left in MMD. They say it is a sign that Nevers Mumba has failed to inspire confidence in the party and is therefore a bad leader.
I would like to remind all our members out there and Zambians in general that if there is a party that is able to survive against all odds, it is the MMD. There is nothing new about party members betraying their president. There is nothing new about members from the old order failing to accept new leadership and fighting it. There is nothing new about a party president losing people that are considered the closest and sometimes dearest to them. The history of the world and mankind is replete with such stories and we can all draw lessons and comfort from them.
Surely, was not God himself the first one to face rebellion, revolt and betrayal in heaven? He lost the brightest, most swift and gifted Angel he had ever created, Lucifer the son of the morning who was one of the covering cherubs inside the sanctuary in heaven. He lost a third of all the billions of Angels he had in heaven in a rebellion, who chose to go with Satan, the chief rebel. He lost the first man Adam he ever created in the garden of Eden, who fell for the temptation of the woman, Eve. God lost the first woman he ever created on earth, Eve, who fell for the lie of the serpent who promised her more knowledge if she partook of the forbidden fruit.
The list goes on. The truth is, every marathon has its casualties who fall away. For some leaders, it is the closest and most trusted. In some cases, it is a spouse who fails to run the race to the end. So it was for Job whose wife was so discouraging in the heat of his most severe trial. Even our Lord Jesus Christ lost Judas Iscariot who was so close to him that he entrusted him with the treasury.
Similarly, Nelson Mandela faced a similar situation when he was in jail but managed to run the race to the end and is now celebrated as one of the greatest leaders of modern times. Julius Malema in South Africa was one of the protégés of President Jacob Zuma. Do these differences between these people necessarily reflect only on the leader? What about the sincerity of the people that rise up against the democratically elected leadership of the party with impunity? Should their actions not be checked against a standard of Morality and Integrity which we espouse as a people? Don't Zambians deserve a leadership of Morality and Integrity which will for once live by principle rather than by deceit and self interest?
As the MMD, we take pride in the fact that despite all the challenges we've been through, we are still here. In fact, all one needs to remember as we search for the character of our party and as we try and understand the resilient nature of our heritage is to consider that against all odds, this Party dislodged the once high and mighty United National Independence Party (UNIP) and we did so by fielding a man of small physical stature, but yet, a giant of democracy who showed us what a truly united and focused movement can achieve if we rally around the same theme and pull in one direction as a party.
Against all odds, our party survived the first siege when our first President, Dr Frederick JT Chiluba (MHSRIP) lost some strong pillars of the party such as Dean Mung'omba, Emmanuel Kasonde, Humphrey Mulemba, Baldwin Nkumbula and Ben Mwila, to mention but a few.
Against all odds, the MMD survived when President Chiluba (MHSRIP) lost 22 Ministers (including two Vice-Presidents), along with over 100 MPs during the abortive and controversial third term bid. This was just before we lost our then National Secretary Mr Michael Chilufya Sata who was later to form the Patriotic Front which is today in government, in protest to the nomination of Levy Mwanawasa (MHSRIP) as Presidential Candidate.
Against all odds, President Rupiah Banda had to fend off the threat of having lost men of gigantic stature such as Ng'andu Magande, Mike Mulongoti, George Mpombo, women such as Sylvia Masebo and former first lady Maureen Mwanawasa to mention but a few.
The bottom-line is that as long as organizations exist, we are all bound to undergo and deal with change. This change sometimes leads to splits and differences. In any case, splits have happened in all major parties. UNIP, MMD, PF, UPND, and the FDD. The UPND experienced a massive split accompanied by a mass exodus of senior members during the convention to replace Mr. Anderson Mazoka (MHSRIP) in 2006. UNIP similarly had the same problems after Dr Kenneth Kaunda's failed presidential run in 1996.
No one is immune to change and therefore no one is immune to the phase we are going through as a party. What is important is for us to have a clear sense of direction and belief that as long as we are strong and determined, we can achieve what we set out to do.
Our opponents have tried to upset our heroic history by claiming that the splits and differences in the MMD are an indication of my failure to lead the party. It just means that the party is undergoing change, which is necessary if we as a party are to achieve the concept of the NEW MMD, which we are going to deliver to the Zambian people. Let it be known that Nevers Mumba did not choose to be MMD president because it is easy, but because it is hard, and that despite all these challenges we have been through, the MMD is still here, and we are more united today than ever before.
After the painful birth pangs of the last four years, we are about to experience a rebirth of our party. The trials and tribulations have created a new strong hearted leadership to move the new party forward. With a new president, a new set of united MPs, Councilors and Mayors, the NEC has decided to go public in calling this emerging MMD as the NEW MMD. Different from the old MMD which fell out of favor with the Zambian people in 2011.
This transition is based on a new set of values which we have included in the new movement. Tony Blair of the UK was also faced with a similar challenge when he took over the leadership of a diminishing opposition Labor Party. He soon realized that the hope for the old party lay in a new beginning. He called the party, "NEW LABOR" after which he went on to win the following election in 1997. Our description of the New Hope MMD, will in short be called the "NEW MMD".
I wish to remind every member of the MMD that as regards party discipline, one of the biggest challenges we have faced as MMD has been that of gross indiscipline. This has come to light as some of our members, especially senior party officials, have shown as they have one by one, drank from the poisoned chalice by falling for the temptation to sell the very soul of our party to our opponents for short term gains.
It is a well-known fact that since losing power in 2011, some of our members have found it hard to remain loyal or to accept a president who has no plots to give for free to cadres, who cannot offer jobs and contracts to his followers or indeed a president who cannot give gifts and financial rewards at a similar level to how it was while the MMD was in power.
These members begin working insidiously among us to plant seeds of discord and confusion after receiving such benefits. After trying and failing, they have all changed and turned into some of our worst enemies, forcing us to act in the interest of the party by cracking the whip and disciplining these individuals on a case by case basis.
I wish to emphasize that we have done this not out of hatred, but out of principle and responsibility to the party and to the people at the grassroots who mandated me as President to protect and defend the party from the rich and powerful cartels who would want to control the party.
I would like to reiterate that as we move forward, discipline will continue to be one of our pillars. We shall not entertain any form of indiscipline. The callous disregard for authority and the rule of law is foreign to the MMD which was built to run on loyalty to the party and respect for authority. We will engage, discuss with, warn and caution and suspend any member who decides to follow the path of indiscipline. However, when the conduct of such an individual becomes repeated and with impunity, we will expel such a member forthwith.
We are aware that some of our former members are planning to form an MMD splinter party. We wish to state that it is the democratic right of everyone in this country to freely exercise their right to assembly and association. However, we wish to maintain that if the aim of such people is to cause further divisions and confusion in our party, the MMD will spare no avenue, resource and talent to ensure that it defends itself from such schemes and manouvres. This will give us chance to work towards the actualization of the Visionary NEW MMD.
ELECTION NOMINATIONS & PARTY MOBILIZATION
By the 16th of May 2016, Parliament will stand dissolved as per amended constitution. In view of this, I wish to take this opportunity to officially announce and launch the process of receiving applications from all MMD aspiring candidates as Members of Parliament, Councilors, Mayors and Council Chairpersons. This exercise begins today and will continue until 31st March 2016. The applicable fees for each application will be as follows:
Members of Parliament – K2,000. Mayors and Council Chairpersons – K2,000. Councilors – K400.
All constituencies are open for application and in line with our democratic ideals. There will be no sacred seats. All seats will require potential candidates to put in their best and compete on merit. Further, I wish to announce that we are also launching the Card Renewal exercise. As a consequence, we will be dispatching NEC members immediately into all the provinces as of Monday 14th March 2016 to supervise this card renewal exercise while working with the local structures. They will also participate in the verification of applicants for the elections.
To our womenfolk all around the country, I would like you to take a stand and be counted. As the NEW MMD, we are targeting 40% representation across all seats to be taken up by women. This is in line with our policy of achieving a 50-50 leadership spread by the year 2030. We believe that we have a good reservoir of prominent women across various parliamentary and local government seats to achieve this.
We also extend this invitation to the young people of Zambia; young men and young women who have a heart to serve the people for the purpose of uplifting their lives to stand up and be counted. I want you to be the next set of MPs and Councilors.
Are you willing to die a little for that chance to get into the assembly of the lawmakers and councilors? Then we have just the right opportunity for you in the MMD. Do not doubt yourself. Together we can make a difference and be a partnership that will deliver real development to the people of your targeted area of interest. Remember you may be young, but that is what represents a new hope for a new future.
To the NEC members, I say be resolute and determined in the noble task that is ahead of you. Remember all the structures are looking to you for inspiration, motivation and wisdom. I have confidence in your abilities and your loyalty to the Party.
To our Leaders in the provincial executive committees, ensure that the districts are communicating with you on a daily basis. The time to slumber is over and the time to work has come. Let no one be found wanting in this regard. Any officials from the districts who are not regularly reporting to you at provincial level must be sternly warned and replaced if possible. We have dispatched vehicles to all the provinces to aid in movements. Use these assets unreservedly, but with care. We will keep adding to the fleet as we get closer to the elections.
To our district officials, you are the life-line of the party. Without you alive and kicking, there will be no structures to talk about. Stay united, stay focused and ensure that the constituencies and the wards are all flourishing. To our wards and branches, allow me to say that you are the most important level in the MMD structures. As wards and branches of the MMD, we have been called to do a work of such great importance. We are to ensure that the life of our party is preserved and nourished at this level.
Bring out the Blue and white regalia. Start the songs and choruses in a new pitch. Go and search every village and hunt for the people who are hiding the MMD Clock. Bring out the Clock. In fact, as leaders in all areas of the country, we are to allow nothing else to consume our time more than ensuring that our wards and branches are populated, motivated, registered, and ready to cast that vote on 11th August 2016.
CONTINUED MOBILIZATION
During our continued mobilization tours around the country, I have been to 7 provinces so far and I have seen with my own eyes the challenges and the plight of the people of Zambia. As a country, I can say we need a break-through and we need it soon.
It doesn't matter whether one is PF, MMD, UPND, FDD, RAINBOW or whatever else. I have seen that the look of anguish in that poor single mother in Lunte, Northern Province is exactly the same as the look of self-doubt in that old grandfather trying to look after his orphaned grand children in Chipupushi Village in North-Western Province. They do not know where their next meal will come from.
I have learned that the hopes and aspirations of the young girl from Mkushi who passed her grade 12 with flying colors but has no government bursary are exactly the same as that of the young man who has a diploma in his files but yet cannot find employment for years.
I have seen our entrepreneurs who have National Construction Council (NCC) certificates in Kitwe but cannot get any subcontracts. They share in the very same poverty as my supplier friends who took kapenta, beans and cabbages to the prisons to supply but have not been paid for over 6 months. I know that the calls for a new type of leadership of morality and integrity in our country is as true coming from the Catholic believers as it is coming from the Protestants.
It is only the MMD that is NOT an experiment. Only the MMD has the solutions to these problems. Only the MMD currently stands on a selling point of the quality of leadership rather than the popularity of individuals. Once Again, this is a call to duty for all our gallant members to stand up and be counted from the NEC right down to the branches. MMD, stand up!
STRATEGY FOR 2016
As we look to 11th August 2016, it is worth noting that the time for fighting is over. It is time to campaign. Likewise, the time to keep quiet is now gone. It is time to tell it like it is. As far as we are concerned, the old order has passed away and now before us lies a new beginning, a new day, a new thing; a NEW MMD.
No one who is still stuck in the cocoon of our past will fully grasp what we are about to do until it is done. For us today, it is not surprising that some people will have us stay in the past where we have fought amongst ourselves, where we suffered great loss and a humiliating defeat in the January 2015 election. This is to be expected. We shall, however, not allow other people to tell our story. Instead, we will remind Zambians what the MMD is and what we represent, and what we will offer as we return to government this year.
We will remind Zambians that this party was not built by people who gave up on themselves in the face of intimidation. Those who came before us made certain that we were the first opposition party to topple the ruling government, achieve single digit inflation, multiply the size of our economy from being worth $3bn when we took over to $25bn in 2011. We even declared Zambia a Christian nation and delivered all fundamental rights and freedoms to the citizenry.
Let every person know, whether they wish us well or ill, that we shall pay the price, bear any burden, meet any hardship, support any friend, and oppose any enemy to assure the survival and success of the Movement for Multiparty Democracy. This much we pledge and more.
POLITICAL ALLIANCES
The advent of the now famed 50%+1 clause in our constitution as a requirement to win the elections has changed the political landscape and necessitated the consideration of alliances in elections. Like we have said before, we are open to the prospect of mutually respectful alliances subject to agreement on modalities and negotiations. To our potential allies in different political parties whose culture and developmental agenda for the people of Zambia we share, we pledge the loyalty of a faithful friend. For if we are united, there is very little we can fail to achieve, while if we are divided, there is little we can hope to achieve and we dare not meet a powerful adversary while we are at odds.
Currently, we have been invited to consider the option of an alliance with the ruling Patriotic Front, among others. We will explore as much as possible ways in which this can be achieved as long as it preserves the rights, goals and aspirations of both parties. A committee has been put in place to set the guidelines for such negotiations. As at present however, we wish to clarify to our general membership that all our programming should continue independently as a party until the leadership ascertains and finalises any new developments regarding the above.
FINAL REMARKS
To those new aspiring members of parliament, councilors and council chairpersons, we welcome you to join the ranks of esteemed men and women who have fought to use their time in leadership to bring development to their areas via the MMD ticket. However, our commitment as the New MMD is that one generation of leaders shall not pass away just to be replaced by a far more disunited, corruption-tainted and self-seeking leadership. Although we shall not always expect agreement in all points with the new breed of leaders we will be ushering in this August, we will endeavor to maintain mutual respect and remember that in the past, even the weak have become strong when they are united.
To our estranged brothers and sisters who would make themselves our adversaries, we offer not a pledge but a request; that both sides begin anew the quest for peace, unity and reconciliation before the dark forces of human pride and hatred engulf us all in planned or accidental self-destruction. This process of healing and reconciliation may not be completed within this month. Nor will every former member of our great party come back to the table of reconciliation and brotherhood within this year, nor in the life of this administration, nor perhaps in our lifetime here on earth. But let us begin.
In the 25 year long history of our party, never before have we been granted the role of defending democracy and freedom in its hour of maximum danger as now. As president, I will not shrink from this responsibility. I welcome it. I do not believe that any of us would exchange places with any other phase in the party history. Having been tried and tested through hardship and experience, we should now embrace this moment with the energy, faith and devotion which only this group of leadership of the MMD can dare bring to the table. Against all odds, we can energize the party and against all odds, we can energize this country into seeing the Hour for New Hope which is upon us.
God bless the MMD. God bless Zambia. Thank you.
Nevers Sekwila Mumba
MMD President
[Read 12 times, 1 reads today]