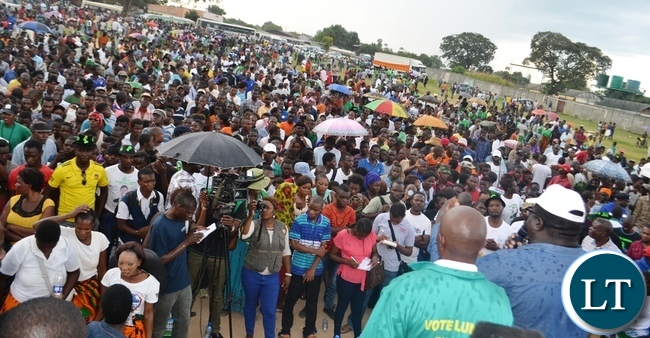 CHIEF Government spokesperson Chishimba Kambwili has called on the people of Southern Province to redeem themselves from a tribal tag by allowing other political parties to conduct their campaigns in the region without being harassed ahead of the August 11 general elections.
Mr Kambwili said in Kitwe yesterday that Southern Province should not be restricted to people from one political party as every Zambian has a right to campaign freely in the area.
Mr Kambwili said Southern Province is a fraction of a bigger nation called Zambia and as such, every citizen is free to conduct political activities without being harassed.
Mr Kambwili, who is Information and Broadcasting Services Minister, was speaking during a Patriotic Front (PF) rally at Kitwe's Mukuba Secondary School grounds.
He described the attacking of PF deputy spokesperson Frank Bwalya by suspected United Party for National Development (UPND) cadres in Monze on Friday as unacceptable.
He said Southern Province is not for only one political party.
"Southern Province is not for only one political party. The province is part of the whole Zambia, and as such, everyone should be free to visit the area," Mr Kambwili said.
Mr Kambwili called on Zambians to scrutinise people vying for presidency as most of them did not mean well for this country.
He urged all well-meaning Zambians to rally behind the ruling PF government and vote for President Lungu and his team to enable them to continue delivering massive development countrywide.
Mr Kambwili urged people not to be swayed into changing Government by what he termed prophets of doom.
Copperbelt Minister Mwenya Musenge urged Zambians to vote for President Lungu because of his humility, hardwork and his visionary leadership.
PF Copperbelt party mobilisation chairperson Joel Malanji said Mr Lungu was the suitable person for the presidency as evidenced in the professional manner he handled the transition period after the death of President Sata.
He said President Lungu has also continued with the PF's development agenda.