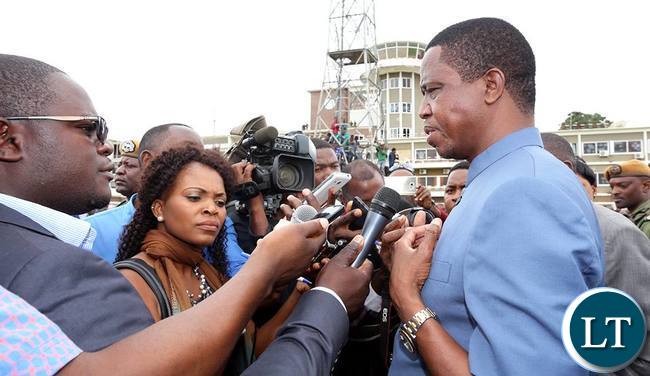 PRESIDENT Lungu has called on the police to ensure the security of every Zambian is guaranteed.
President Lungu said this in reaction to Friday's incident in Monze where Patriotic Front (PF) spokesperson Frank Bwalya (left) was assaulted by suspected United Party for Nationa Development (UPND) cadres when he went for an interview at Sky FM.
President Lungu said he has confidence that the police will handle the matter and that culprits will be brought to book.
"People should know that it's not about fist-fighting like what happened to Frank Bwalya, no. I hoped the police will stop at nothing to arrest the culprits. That is very important.
"Who beat up Mr Bwalya? It's UPND cadres, the same people who are appearing in court for the same offence for beating Moonga and the others the other time. Anyway, the police are there and I think they will do their best," he said.
The President was speaking in Lusaka upon arrival from Mozambique, where he had travelled on a three-day State visit.
On Friday, Mr Bwalya was assaulted by suspected UPND cadres at Sky FM, where he had gone to give an interview following an invitation by the radio station.
Police have opened dockets in the matter where Mr Bwalya was beaten by suspected UPND cadres in Monze on Friday.
And police spokesperson Charity Munganga Chanda said dockets have been opened for the three UNPD cadres who beat up Mr Bwalya.
Mrs Chanda identified the three as Kelvin Conhill, Lawrence Mbewe and Ackson Miyoba. She said two of the suspects, Conhill and Mbewe, are currently on bail for similar offences.
"The incident happened at Sky FM on Friday around 16:00 hours when the suspects went into the newsroom, where the interview was being conducted. There was an exchange of words before he was beaten," Mrs Chanda said.
She said police have launched a manhunt for the suspects, who are on the run.
University Teaching Hospital (UTH) spokesperson Mwenya Mulenga confirmed treating Mr Bwalya, who has since been discharged.
And two civil society organisations have condemned attacks on Mr Bwalya.
Speaking in separate interviews in Lusaka yesterday, Jesuit Centre for Theological Reflection (JCTR) director Leonard Chiti said his organisation is disappointed that intensified calls to end political violence are going unheeded.
"We have heard in recent times political leaders, including our own President [Lungu], calling for peaceful co-existence amongst people and particularly between members of various political parties, but it seems no-one is paying attention to these calls; even diplomats now are worried about this violence in the country," he said.
Fr Chiti is of the view that political party leaders have the ability to discipline their cadres.
Fr Chiti has, however, commended President Lungu for his continued calls for peaceful campaigns ahead of the August 11 polls.
"The President has also called on police to be firm and impartial on acts of violence regardless of which political party the perpetrators belong to.
Interestingly, attacks on Mr Bwalya happened the same day one of the local papers on Friday quoted UPND leader Hakainde Hichilema calling for his members to desist involving themselves in acts of violence," he said.
He said the clergy sympathises with Mr Bwalya and urged him to continue preaching peace as advised by the Word of God.
Press Association of Zambia (PAZA) executive secretary Patson Phiri has urged the UPND leadership to demonstrate highest levels of responsibility and maturity by identifying the suspects and handing them to police.
"We condemn in the strongest terms possible attacks on Mr Bwalya by suspected UPND cadres in Monze on Friday. What happened in Monze is contrary to UPND leadership claims that they detest politics of violence," Mr Phiri said.
He said Mr Bwalya, as a citizen of Zambia, has every right to enjoy his freedom of expression irrespective of the location.
Mr Phiri said any citizen of Zambia regardless of their status must not be afraid of going to any radio station to express themselves freely.
He said PAZA believes that politics is a civilised contest which must be won on the basis of ideas as opposed to physical confrontation.