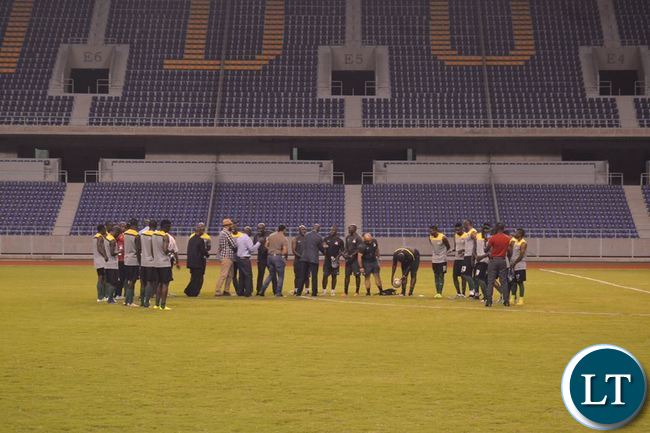 Football Association of Zambia President Andrew Kamanga watched the national team in training on Tuesday evening.
At the end of the training session, Kamanga mingled with the players and members of the technical bench.
He was accompanied by FAZ vice president Richard Kazala, Faz Treasurer Rix Mweemba, Executive Committee members Blackwell Siwale and Lee Kawanu, Faz Technical Director Honor Janza, Faz Finance Director Samuel Phiri and Club Licencing Manager Erick Mwanza.
Zambia hosts Congo – Brazzaville in a 2017 Africa Cup of Nations qualification match at Levy Mwanawasa Stadium on Wednesday.
And George Lwandamina is aiming for a six-pointer in the 2017 Africa Cup Group E doubleheader qualifier against Congo-Brazzaville.
The two sides' meet in a top two clash on Wednesday with both sides tied on four points heading into match-day-three at Levy Mwanawasa Stadium in Ndola.
Leaders Congo beat second placed Zambia to top spot in Group E on goal difference.
Three points at home for Zambia in midweek and another three away in Brazzaville on March 27 will put Chipolopolo one foot into the finals heading into June's penultimate round of matches.
"We want the six points but I am sure even Congo want the six points but we have this opportunity to get the six points hoping and trusting we have a better game," Lwandamina said.
"We are hoping the players will give us the desired result.
"A home win is a win by any margin and it will also give us impetus to take to the next game but a win is all we need to take into the next week."
Zambia head into the first leg with just one loss against Congo from ten previous meetings and with four wins and a draw since losing 1-0 in November 1996 in a 1998 World Cup qualifying match away in Pointe Noire.
Meanwhile, President Edgar Lungu is today expected in Ndola to give solidarity to the National Football Team who will take on Congo Brazzaville at Levy Mwanawasa stadium.
The Head of State who is also Football Association of Zambia patron will hold a meeting with newly elected FAZ president Andrew Kamanga before the Zambia Congo Brazzaville Match.
Special Assistant to the President for Press and Public Relations Amos Chanda confirmed this to ZNBC News in Lusaka last evening.
Mr Chanda said President Lungu will return to Lusaka on Thursday.
The game will start at 18:00 Hours.