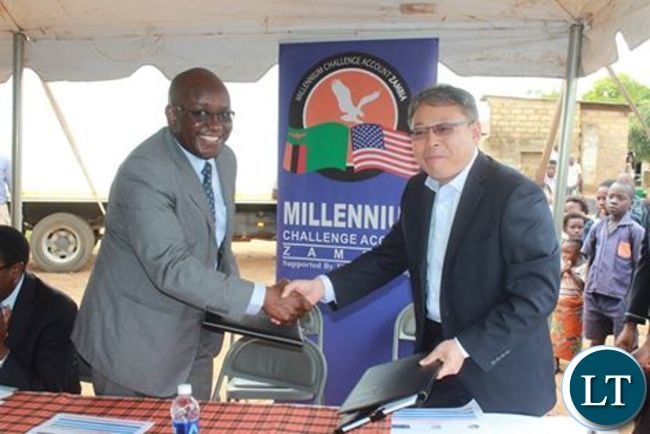 The Millennium Challenge Account Zambia Limited has today awarded a construction contract to UNIK worth US$21.9 million for water reticulation in the communities of Ndeke, Kwamwena, SOS Village, Chipata and Ng'ombe in Lusaka to underscore the importance of safe water supply in recognition of World Water Day.
The contract is part of the US$355 million Lusaka Water Supply, Sanitation and Drainage (LWSSD) Project funded by the United States Government through the Millennium Challenge Corporation (MCC) through a five-year Compact with the Government of the Republic of Zambia.
Under the contract, UNIK will drill 18 boreholes in locations with high quality underwater aquifers, lay over 250 kilometers of water supply network, and build 33 closed kiosks, each with two taps. In addition, a concrete reservoir (800 m3 capacity) and a 30-meter-high elevated concrete reservoir (700 m3 capacity) will be constructed.
MCA-Zambia Board Chairperson and Zambia's Secretary to the Treasury Mr. Fredson Yamba said, "Kwamwena, Ndeke-Vorna Valley are among many new settlements that are being developed in the city. Most of these areas are without services such as water supply and sewer networks. Specifically, in Chipata compound, there is no network for water supply when the area has been in existence for a long time. I am therefore delighted that once construction works are completed, residents in these areas will no longer have to spend a greater part of their day in search of water, because treated water will have been brought closer to their homes."
MCC Resident Representative Steve Marma noted that World Water Day, established by the United Nations on March 22, 1993 and celebrated annually since, "recognizes the importance water plays in everyone's lives; it is a day for learning more about water related issues, and taking action to support clean water being available to all." Mr. Marma mentioned a Kwamwena resident compelled to get water from two different locations, and boil the water so it is safe to drink.
In addition to saving time and money, Mr. Marma noted that, "The project we are celebrating today is meant to combat diarrheal diseases like cholera. Safe drinking water leads to improvements in health, school attendance, productivity, and entrepreneurship. It keeps children strong, families strong, and communities strong."
Both the Secretary to the Treasury and the MCC Resident Country Director congratulated UNIK on winning the contract and noted the Contractor's responsibility to complete all works on time and on budget to ensure the 100,000 Lusaka residents benefit as planned.
Over 1.2 million people in Lusaka are expected to directly benefit from the project.