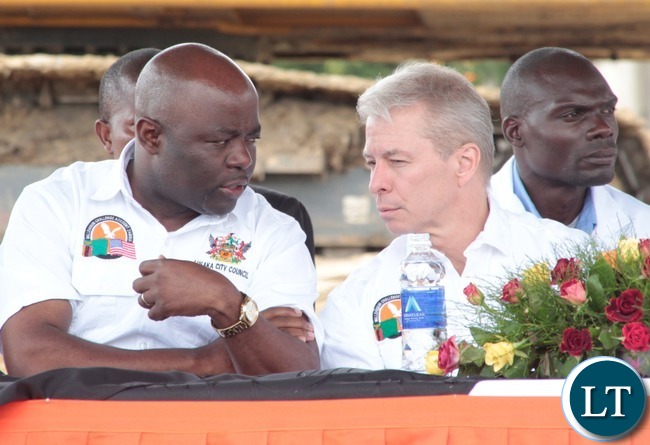 THE Millennium Challenge Account (MCA) Zambia has launched the construction works of the US$355 million Mazyopa-Bombay drainage project in Lusaka.
This is under the United States (US)-funded Lusaka Water Supply, Sanitation and Drainage Project (LWSSD).
US Ambassador to Zambia Eric Schultz said the works were a culmination of the hard work realised through a strong partnership between the US and the Zambian governments.
Mr Schultz said the works were intended to expand access to water and improve the reliability of water supply, sanitation and drainage services in Lusaka.
He was speaking yesterday during the ground-breaking ceremony for works on the Bombay drainage in Lusaka's Garden Township.
"What we are launching today will focus on increasing the capacity of the Bombay drainage in order to safely manage the excess rain water flow and protect Mazyopa Township from improved drainage initiatives upstream," Mr Schultz said.
He said the drainage being constructed would safeguard the community's health as it would help diminish rubbish build-up and reduce standing water.
Local Government and Housing Minister Stephen Kampyongo commended the US government for the $355 million grant to the Zambian Government to support the implementation of the LWSSD.
Mr Kampyongo said the LWSSD was aimed at expanding access to improve the reliability of water supply and sanitation in communities.
"On behalf of Government, I want to reassure the expectant residents and the American government that we will continue to provide all the necessary support required to implement the project on time," he said.
Mr Kampyongo urged the Lusaka City Council to ensure that the drainage infrastructure was maintained and protected.
He also urged Lusaka residents to desist from disposing of litter in the drainage as they were direct beneficiaries of the project.