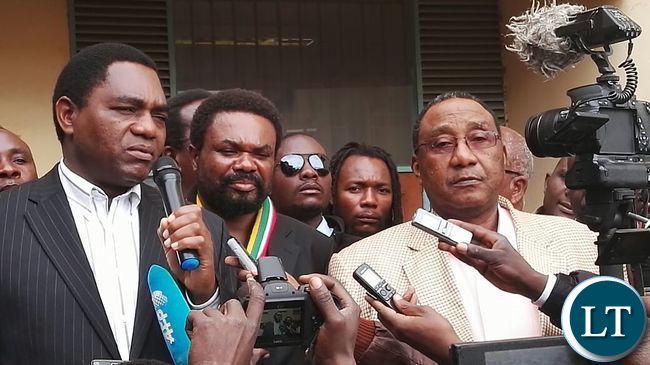 Lawyers representing UPND Vice President Geoffrey Mwamba in a case were he is charged with one count of proposing violence have applied that the matter be a referred to the constitution court to determine the constitutionality of the indictment.
The defence team led by Jack Mwiimbu argued that the charge slapped on their client is an abrogation of his rights to freedom of expression.
The defence submitted that the constitutional court should determine whether the use of the idiom 'I will go for his throat' should be removed from the vocabulary because it amounts to a criminal offence.
And Defence counsel Martha Mushipe contended that the words uttered by the accused person consist of a figurative speech.
Mrs. Mushipe argued that even if it is proved that Mr. Mwamba uttered the said words, they would not constitute a criminal offence.
The case which was scheduled for commencement of trial before Magistrate Jennifer Bwalya has since been adjourned to May 3rd 2016 to allow the state to make submissions, 18th May to allow the defence to respond to the state's submission and 2nd June for ruling and possible commencement of trial.
And addressing hundreds of UPND supporters who marched to the Magistrate Court to offer solidarity, Mr Mwamba thanked his supporters saying time for redemption is coming soon in August.
Meanwhile, UPND leader Hakainde Hichilema said it was important for the entire party leadership to offer solidarity to Mr Mwamba.
"In trying moments such as these it's important to provide support and encouragement to one another, and we thank all those who joined us," Mr Hichilema said.