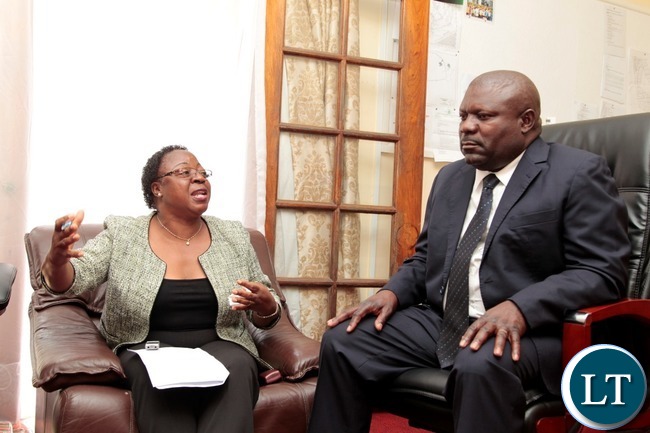 STATE House Special Assistant for Project Monitoring and Implementation Lucky Mulusa has assured the nation that most construction projects which have either stalled or slowed down will be funded and completed by middle of this year.
Mr Mulusa said the domestic and global economic indicators were currently improving and hence normal funding levels were expected by mid this year.
He said there would be more challenges which might arise if uncompleted projects remained in the status.
Mr Mulusa was speaking to journalists in Livingstone yesterday after touring the International Bus Terminus and Town Centre Ultramodern Market which are currently under construction.
About K49 million is needed to complete the Bus Terminus while about K26 million is needed to complete the Modern Market.
Construction for the two projects started in 2013 in readiness for the 2013 United Nations World Tourism Organisation (UNWTO) General Assembly in Livingstone but works are still underway to construct the projects.
Mr Mulusa said the problem of lack of funding was not only an issue for the two Livingstone projects but across the country following various challenges in the global economy which affected the domestic economy.
He said things were looking brighter currently as the Government was anticipating to raise money to ensure that all projects were able to start running.
"When I go to Lusaka, will engage Ministries of Local Government, Finance and Works and Supply to ensure all projects are treated equally without any discrimination.
"The slow completion of projects and lack of funding should be understood that our economy is integrated into the global economy and hence the external shocks have affected us.
"These are not the only projects suffering. There are other projects that have slowed down such as township roads, houses and administration blocks, hospitals and schools especially on new districts," he said.
Mr Mulusa said economy had cycles and hence economies which were integrated into other economies would always face challenges.
"The good news is that we are getting out of the global economic challenges and we should get to normal funding levels by mid this year and all projects will get back to normal levels of activities.
"The Ministry of Finance is looking at sourcing for funding. The more we allow projects to remain in uncomplete statue, the more challenges we are likely to face such as vandalism among others," Mr Mulusa said.
He was however very impressed with the quality of works, design and beauty done at the International Bus Terminus.
"I am very impressive as this is a world-class asset and it can compare to stations in the first world.
"As Zambians, we need to work together rather than looking for faults and condemn those who are trying to deliver. The cost overrun is quite understood," Mr Mulusa said.
At the modern market, Mr Mulusa said he had noticed some design flaws and asked the contractors to consult health inspectors to ensure that there was little or no contact between fresh foods and general public as well as sick people and the public.
Earlier, Ndilila Associates director Francis Ndilila said electricity as well as water and toilets were going to be installed at the Bus Terminus within few weeks.
Dr Ndilila, who is consortium team of contractors, architects and other experts for the project, said the remaining works which mainly included roads would be completed within four months once the funding was available.
"We need about K49 million to finish remaining works. This is a door mate asset and we are glad Mr Mulusa is here to help us.
"So far we are at 98 per cent competition for the building. Roads have undergone two rain season and we need to strengthen them. To-date we have spent about K45 million but unfortunately we had to pay Value Added Tax (VAT) VAT and this brings the total to about K35 million," Dr Ndilila said.
Town Centre Modern market contractor Herbert Yassin Phiri said about K26 million was needed to finish the remaining work.
Mr Phiri, who is Matty Construction Limited managing director, said the remaining works involved the internal finishing of the first and second floors.
"If money was available, it can take three months. More than 60 and 70 per cent works have already done so far.
"We have not received any funding from seven months ago in October 2015. We revised the project up to April but we have to apply for a further extension because of lack of funding," Mr Phiri said.