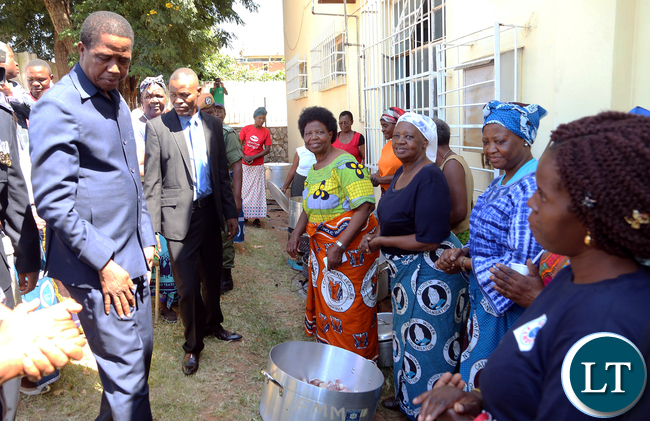 President Lungu apologises for Xenophobic attacks, visits foreigners squatting in a Church
President Edgar Lungu this morning visited the over 300 foreign nationals who have sought refuge at Kalemba Hall at St Ignatius Catholic Church in Lusaka.
President Lungu who made the impromptu visit around 11:30 Hours apologise to the affected foreign nationals for the attacks.
The foreign nationals are mainly from Rwanda, Burundi and Congo.
Addressing the affected people, President Lungu said he was ashamed that some of his citizens can take to such criminality to attack foreigners.
"I take full responsibility on behalf of the Zambian people. I also assure you of full protection and security of your person and property," President Lungu said.
He emphasised that the senseless violence in some parts of Lusaka are acts criminality rather xenophobic.
President Lungu Sata he will work with the UN and church to resolve the matter.
United Nations Resident Coordinator Janet Rogan and UNHCR Representative Laura Locaastro and Catholic Priest Fr Charles Chilinda accompanied President Lungu.
The numbers of people mostly women and children flocking to the drop in centre at Kalemba Hall which was opened on Tuesday has continued to rise.
Father Chilinda said the Church has continued to take in more people but that the situation has now overwhelmed the Church as it is now struggling to provide for their supplies such as water and food.