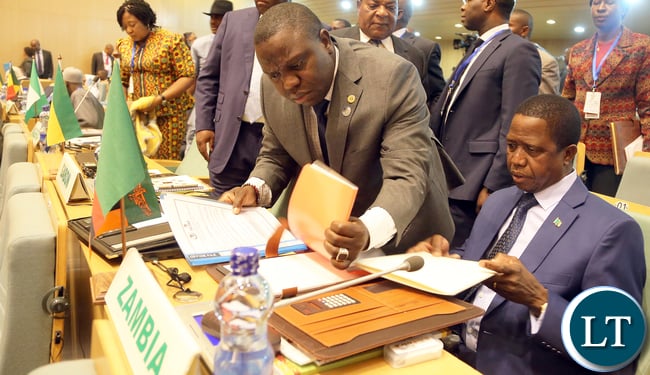 Foreign Affairs Minister Harry Kalaba has again cautioned veteran politician and diplomat Vernon Mwaanga against issuing statements that have the potential to injure Zambia's relations with its neighbours.
This is after Mr Mwaanga described Mr Kalaba's reaction to his comments over reports that a Dubai based firm which was implicated in the Uganda election rigging scam had been awarded a tender to print ballot papers for the general election in August as childish.
Dr Mwaanga told election stakeholders in Zambia to verify facts that the Dubai-based company called Al Ghurair, which the Electoral Commission of Zambia has selected to print ballot papers for the August 11 general elections, was the same one that printed ballot papers for the controversial elections in Uganda, some of which were reportedly pre-marked.
But Mr Kalaba wrote to Dr Mwaanga on April 20, threatening that the government would not protect him if the Ugandan government decided to prosecute him for making reference to some electoral issues currently being contested in that country's courts.
"I wish to express to you sir, the displeasure and disappointment of the government of the Republic of Zambia on the recent remarks attributed to you as reported in the Saturday Post Newspaper of 16th April, 2016 entitled 'Watch ECZ.'
"It must be stated that the naming of a sovereign state in an internal matter relating to the political process in that country, whose facts are before its domestic courts, and have not been fully verified was highly regrettable and unwarranted especially since it came from a person of your stature and standing in the practice of diplomacy and international relations," Mr Kalaba wrote.
In response, Dr Mwaanga said he was very disappointed and angry with Harry Kalaba's childish and immature way of dealing with issues and his meaningless threats.
Dr Mwaanga charged that Mr Kalaba had a childish approach to handling issues.
"Hon Minister, I have received your letter dated 20th April, 2016, concerning the printing of ballot papers by ECZ in Dubai. I am very disappointed and angry that you held a press briefing and made remarks before verifying what I had actually said. My statement was in writing as always and I expected you to verify what I had actually said. I have been a chief election observer in Uganda and have established very strong links with its people and civil society.
All I was saying is that there is information available on blogs and websites in Uganda containing information about dictator Yoweri Museveni which required 'verification'. What is wrong with verification? I am a consummate diplomat, I choose my words very carefully," Dr Mwaanga stated.
But below is Mr Kalaba's latest response to Dr Mwaanga's statement
Dr. Vernon Mwaanga's personal attacks
Good morning Zambia.
I am yet to receive the letter from my elder brother Dr. Vernon Mwaanga which he has, however, circulated on social media and the Post Newspaper of today.
Based on the content of what I have read in the papers, Dr. Mwaanga has for one reason or the other felt offended by my earlier advice to all political players in the country to refrain from issuing statements that border on Zambia's relations with other countries.
Dr. Mwaanga indicated that he was angry with me for the stance I took to censor his public statement concerning the purported printing of ballot papers in Dubai and implicating the Sovereign State of Uganda and he has gone on to label my actions as being childish and immature.
He has also pointed out that it was his democratic right to engage in any discussion and hold any opinion on national matters and that my advice or concern over his statement was a baseless threat.
I wish to inform the Nation that the PF Government will continue to uphold our long cherished values of respecting and protecting freedom of speech and individuals' rights to self-expression and information.
But at the centre of that freedom should be responsibility, self-restraint and patriotism.
Freedom of expression cannot and should not be allowed to crowd our judgement and impinge on our collective responsibility to respect the Sovereignty of other Nations.
It was not my intention, direct or indirect, to question Dr. Mwaanga's right to verify where the ballot papers will be printed.
The focus of my advice to my elder brother was that given his stature in our country, he has added responsibility to censor his opinions that may easily be interpreted as reflecting the opinions of the country.
In the era of modern diplomacy, we have ceased to rely on war-words to settle disputes and the art of self-restraint has not only gained its momentum, but also forged a new world order that heavily hinges on people who can handle awkward situations without upsetting any side.
A seasoned diplomat like Dr. Mwaanga knows that this country can derive the utmost benefits while retaining national dignity from both his experience and his measured indulgence in public discourse.
I personally would not expect him to shun from his responsibility to patch up the rifts caused by his publicly expressed opinions.
Dr. Mwaanga's experience in the International arena ought to have equipped him with all the necessary knowledge required to understand that while indeed, most people can be trained to be career diplomats, excellent ones share some qualities that boarder on patriotism, sober language and patriotic adaptation.
Patriotism is always glorified in international diplomacy because the patriot thinks first of his country and later of himself.
A sagacious diplomat like Dr. Mwaanga cannot show greater passion for his motherland than by carrying national interests through his speech and self-interrogation.
In this regard, a great responsibility rests upon our statesman, not only to enjoy his right to self-expression and right to information, but also to maintain the confidence and trust of the people of the world and forge international relationships that focus on the growth and peace of our land.
In the recent past, Dr. Mwaanga has visited my office thrice and he has throughout encouraged my youthful dynamism and nodded my performance.
I have cherished his encouragement and contribution to our country's diplomatic endeavours but when his actions and words collide with the interests of the country, I have a duty to bring that to his attention and if doing so is an act of childishness and immaturity, then I am inclined to doubt my elder brother's intentions for our land and consequently left perturbed by his desire to straddle the middle stretch of the political see-saw.
As the current appointed top diplomat of our land, I cannot allow unsupported insinuations that meddle in the affairs of other Nations and that are not based on factual information but rather on unproven blogs and media sources.
Dr. Mwaanga himself has stated in his statement that his source of information is certain blogs and websites in Uganda.
A statesman of his stature and standing cannot be expected to put the reputation of our country at risk on the basis of such unreliable sources of information. This is like going to war armed only with a bunch of teaspoons.
As I have said before, the Government of His Excellency Mr. Edgar Chagwa Lungu, remains committed to international diplomacy, good governance and the rule of law and we will ensure that these elections which my elder brother is so worried about, are conducted in a manner that is free, fair and credible and conducted on a level playing field.
Elections are won or lost on the basis of ideas and the character of those tasked with explaining those ideas to the electorates.
In the PF, that is what we have chosen to base our focus on.
We are united in projecting the good values of our land to the outside world and we have been tenacious to highlight what we have been doing since we came in power. That's what has the potential to win us the next election.
Zambia is renowned for her democratic and diplomatic credentials and the PF Government remains fully committed to maintaining these standards.
We may not be everyone's first choice, but we are a great choice. We may not be perfect, but we need not be because only Christ is perfect and our perfection may only be judged on the basis of our passion and intentions for our people.
And as for me, I cherish positive criticism whether it comes from one of my kind or from the opposition. I cherish the ideals of collective wisdom and value the attributes that I can only have by learning from others.
That's who I am. Take me the way God has made me or watch me as I walk away because God advises me not to sit in the counsel of those not propagating his agenda.
[Read 33 times, 1 reads today]