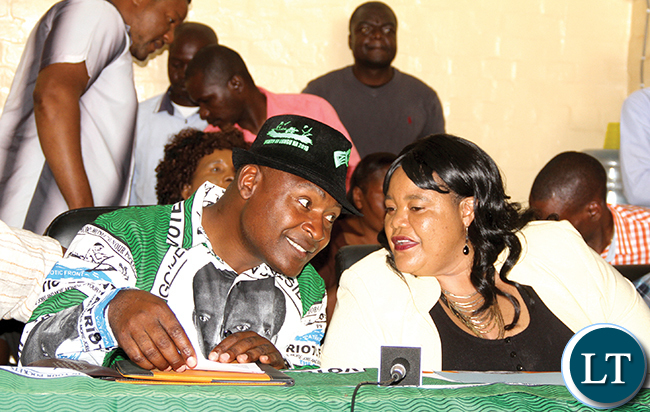 The ruling Patriotic Front has accused some civil society organisations of being infiltrated by agents of the opposition.
PF Deputy Spokesman Frank Bwalya alleged that there are still many agents of the opposition in civil societies including credible institutions such as the Law Association of Zambia.
Mr Bwalya claimed that these people are easily identified by their fruits.
He has since warned civil society organisations that they risk losing credibility if they continue to harbour agents of political parties whose sole agenda is to scandalise the governing party.
Mr Bwalya said such characters pose a danger to the success of these organisations because of their propensity to undermine organisations that host them.
He said many Civil Society leaders in Zambia who have been criticising President Edgar Chagwa Lungu unreasonably are motivated by partisan considerations.
Mr Bwalya said some of such leaders who have been using bad language and irrational arguments in their criticism of the PF have exposed themselves by applying to stand as MPs on opposition tickets especially the UPND.
"For instance, the Executive Director of Foundation for Democratic Process (FODEP) Mr McDonald Chipenzi has applied to stand as MP for Chirundu on the UPND ticket. It is in the public domain that he recently attended interviews for the same but scored poorly," Mr Bwalya said.
"The information we have is that UPND members who have been doing a hands-on job of mobilising their party resented him on grounds that he had done no work to grow their party apart from issuing anti Lungu and PF statements," he said.
Mr Bwalya said Zambians will remember that Mr Chipenzi was instrumental in hijacking the Grand Coalition demanding for a people driven constitution to champion narrow partisan interest.
"As leader of the Alliance for a Better Zambia, I was privy to manoeuvres by the UPND to use the Grand Coalition to generate selfish political mileage and how Mr Chipenzi aided them. When we spoke against the narrow partisan agenda the Grand Coalition started advancing we were accused of spreading falsehood. But what has transpired now vindicates us."