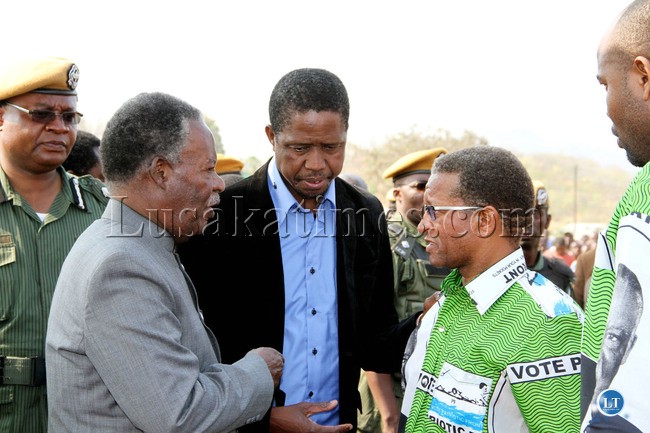 Republican and PF President Edgar Lungu has said that he will not be crucified for embracing people joining the party from other political parties.
Mr Lungu said said that politics is about numbers and those people leaving the ruling party should not disparage him for welcoming new members from other parties.
Mr Lungu said that those who do so are not politicians and that the late President Michael Sata built PF on the back of membership from the MMD.
"We are welcoming people from UPND, from MMD, from any other political party for that matter because that is a culture that Mr Sata left. Mr did not build PF from without. Where did he get the membership from? He got it from MMD. So anyone who thinks that by disparaging us because we are welcoming other is not a politician, politics is about numbers.
"If people in MMD,UPND are willing to work with us why can't we embrace them? I'm I going to be criminalised because I have embraced others? I know that Mr Sata did appoint people from UPND, from MMD as Ministers. What has changed? So, people who are trying to crucify me for betraying Mr Sata didn't know him," he said.
He explained that he was politically more closer to the founder of the PF than some people cared to know, adding that he was President of the Republic because President Sata trusted him.
"Mr Sata was a politician and I think I was closer to him than some people might want to know and that's why I am President. If it were not so, he wouldn't have entrusted me with those huge responsibilities the way he did. He knew that there were others but he trusted me, he allowed me to act as President, he allowed me to act as Minister of Defence, he allowed me to act as Minister of Justice," he said.
He also called on the PF members to work hard and ensure victory on 11th August.