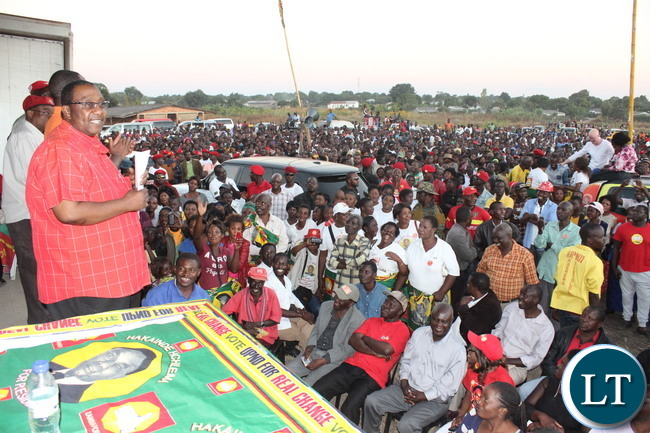 United Party for National Development Vice President for Administration Geoffrey Mwamba says it is shocking that people of the Copperbelt Province that holds Zambia's worth are still wallowing in abject poverty.
Speaking at Ndola's Mushili grounds when he addressed a rally, Mr. Mwamba said it is sad that the country's main source of income has its citizens languishing in poverty.
The opposition leader has however assured residents of the Copperbelt Province that when his party gets into government they will engage Mine owners in order to find a lasting solution to the challenges the people are faced with.
He adds that a solution can be found by courting new investors to run mines that could have been left by some investors rather than mines laying off workers and eventually closing down or being put on care and maintenance.

Mr. Mwamba promised that once his party is voted into office, job losses will be a priority so as to save lives and the country's economy.
And Mr. Mwamba who is on the Copperbelt for a series of rallies has expressed concern at the high cost of living Zambians are subjected to.
Meanwhile speaking at in Luanshya's Roan Constituency Tuesday evening, the UPND Vice President has pledged to end electricity loadshedding in two years of taking office.

He notes that power deficit is an issue that can be handled by construction of more power plants and also looking at other sources of energy.
And United Democratic Front President Miles Sampa said the neglecting of late President Michael Sata's vision for the country by current PF leaders under President Lungu is unacceptable and wrong.
Mr. Sampa said it is unfair for President Lungu and his PF team to neglect the Sata family because without Mr. Sata the PF would have not been formed and eventually in power.
He added that if First Lady Christine Kaseba Sata, her son Mulenga, family members and PF founder members including close friends to Mr. Sata like Dr. Guy Scott were today out and unwanted in the PF, sends serious signals that the PF has been hijacked.
And Innocent Mumba representing students from the Copperbelt University said students in two State Higher learning Institutions, the University Zambia Lusaka and Copperbelt Campuses are still waiting for government to fulfil its promise of giving them meal allowances and student loans.