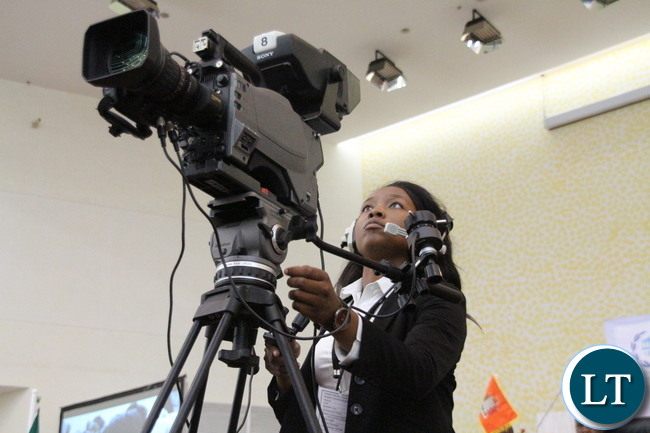 Zambia National Broadcasting Corporation Director General Richards Mwanza has warned that the national broadcaster will be forced to switch off cameras if political cadres do not stop harassing its Reporters.
Mr Mwanza said harassment of Journalists is unacceptable because the national broadcaster works in public interest.
He has since appealed to political parties to help sensitise their cadres on the best way of approaching Journalists.
Mr Mwanza said reports of ZNBC Journalists being targeted for harassment by cadres have continued to increase ahead of the August polls.
He said the state broadcaster will stop covering political events if the harassment continues.
The ZNBC Chief was speaking in Lusaka on Monday when he officially opened a two day Elections Reporting training for ZNBC Journalists which is being facilitated by the BBC Media Action.
And ZNBC Corporate Secretary Reuben Kajokoto revealed that the state broadcaster is sometimes put under undue pressure from politicians to air defamatory content.
Mr Kajokoto cited the case of Chanda Chimba's Stand up for Zambia television documentaries as one case where all structures of ZNBC were overruled by politicians to have the documentaries aired.
"We as a Corporation refused to run Stand up for Zambia even management here refused. It even went up to the Board and it also refused but we were all over ruled by the powers that be. Even that material that was eventually aired was edited because we felt the original content was libellous," Mr Kajokoto said.
He said the state broadcaster is fully aware on the need to desist from running defamatory content on its channels.
"ZNBC stopped running the latest UPND campaign advert Bello after the PF complained that there were defamatory elements in the song because the PF is being accused of corruption which even ZNBC itself cannot prove so we had to review the entire song and we later agreed that it was not fit to continue running on ZNBC and we stopped it. We did this even before the ECZ could sanction us because we are now more careful to avoid litigation," he said.