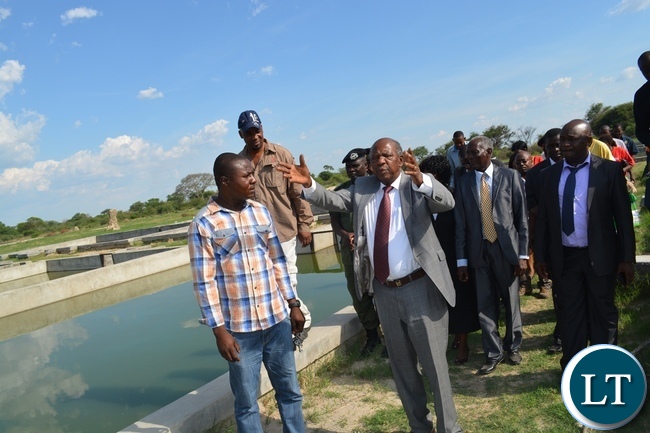 Finance Minister, Alexander Chikwanda, has called on Zambians to give President Edgar Lungu another mandate in the forthcoming general elections, saying he has a robust transformative development agenda formulated by the late President Michael Sata.
And Mr Chikwanda has implored PF members countrywide to support candidates nominated by the party in various parts of the country to maintain unity and win this year's general elections at all levels.
Mr Chikwanda said President Lungu was following the PF founder, Michael Sata's agenda for the nation, which was dedicated to uplifting the lives of all Zambians through economic development.
Speaking in Luanshya when he met PF functionaries in the district, Mr Chikwanda, who is also PF member of the central committee, said President Lungu was a humble, loving leader dedicated to serving the people of Zambia.
He indicated that the PF government was determined to improving the lives of all Zambians as evidenced by the various development projects being undertaken in all districts of the country.
And Mr Chikwanda has called on PF members to support nominated candidates so as to show solidarity to President Edgar Lungu.
He implored nominated candidates to emulate President Lungu's conduct of humility and moral standing, which stood as a benchmark for conduct for all nominated party candidates.
Mr Chikwanda advised nominated candidates not to feel larger than the party but to strive to pursue the interest of the nation which was composite and embraced the concern of all Zambians.
He further appealed to Zambians not to fear that they have misplaced their trust and confidence in the leadership of the PF, but to judge from the development projects undertaken.
Mr Chikwanda also emphasised the need for respect, love and unity among party members if the PF was to win this year's elections.
He further stated that the PF was ready for the August 11 elections with a robust development agenda and was reared to continue fostering development.
And speaking at the same occasion, Copperbelt province PF chairperson, Stephen Kainga, lifted all party suspensions in the province that occurred in various districts during the selection process of party election candidates.
Mr Kainga, however, said the PF would not allow its members to support independent candidates that have decided to contest elections after they were not nominated by the party.
He said in accordance with the party's regulations and constitution, those who choose to stand against the party automatically expelled themselves from the party.
He has since warned that the PF would not hesitate to expel any member that will be seen to associate with independent candidates.
And Luanshya aspiring mayoral candidate, Nathan Chanda, called on all party leaders to work together and usher President Edgar Lungu into office.
[Read 50 times, 1 reads today]