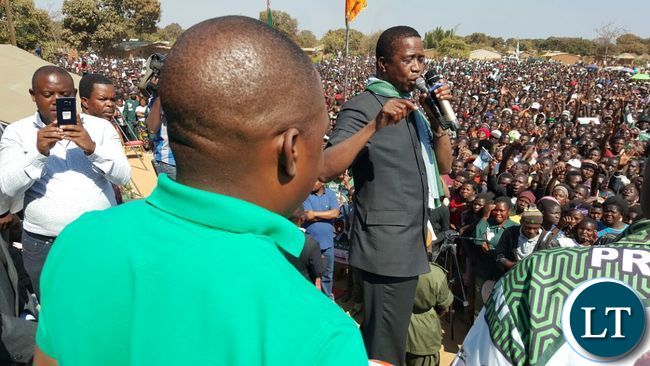 Legendary Zambian football icon Kalusha Bwalya yesterday officially endorsed President Edgar Lungu at a mammoth rally in Kabwe.
The 1988 African footballer of the year performed his ceremonial kick of 11 footballs much to the excitement of thousands Kabwe residents.
During the rally former FAZ president Kalusha Bwalya urged the electorates to vote for President Lungu.
And President Lungu told the Kabwe residents that they should be wary of wealthy businessmen masquerading as messiahs.
He said that some aspirants for the August 11 elections had lost elections several times but could not let other people have a chance in their political parties.
"I am not boasting but my friends saw potential in me. I was in parliament…where I was a dark horse. I listened and prayed when my friends decided that I be the president. Even when Guy Scott removed me I obliged but the people decided and brought me back," he said.
"But with other parties some people have been losing elections since 2001 and have not allowed others to have a chance. Kuluza sitilesa manje kaluzidwe (losing is not a problem but the way you lose," he said.
President Lungu said the people that had criticized him that he had no vision had been shamed as he was carrying out late President Michael Sata's vision.
He said the roads the party had completed were a manifestation of that vision.
The President commissioned the construction of a first-ever multi-million dollar Kabwe Shopping Mall project at a cost of US$20 million.
The shopping mall, which will be constructed on an eight hectare land next to Zambia-China Mulungushi Textiles, will create about 1,100 jobs for the locals.
And President Lungu says the construction of the shopping mall and other infrastructure projects have seen the rebirth of Kabwe.
President Lungu said Mulungushi Textiles will be fully operation by August adding to the employment numbers in Kabwe.