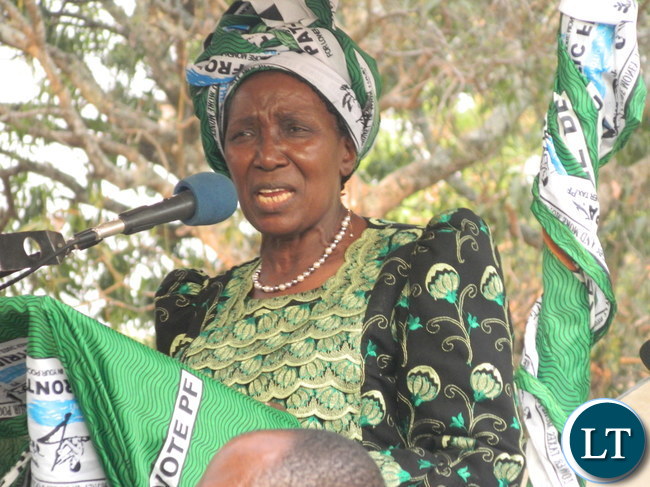 Vice President Inonge Wina has urged the Police to deal firmly with perpetrators of violence regardless of their political affiliation.
Mrs. Wina says the problem of violence must be dealt with firmly as it has potential to cause voter apathy.
The Vice President says many people especially women may boycott voting if the problem of political violence is not addressed.
She says political parties also have a crucial role to play in curbing violence ahead of the August 11 polls.
Mrs. Wina further says Political parties should educate their cadres to refrain from confrontational politics by promoting issue based discourse.
The Vice President said this in an interview with ZNBC's Inutu Mwanza in Lusaka today at Mass media complex.
And Mrs. Wina said it is sad that some political parties contesting the election have said little about the promotion of gender equality.
She said political parties must ensure that they spell out what they will do to promote women empowerment.
And hundreds of Patriotic Front members in Lusaka's Chawama constituency have matched in support of a peaceful election on August 11.
The residents also carried a message of solidarity in support of President Edgar Lungu's leadership beyond 2016..
March organizer Adrew Nyireda says the match was aimed at encouraging people to co-exist and promote the one Zambia one Nation motto.
Speaking when he addressed party members, Deputy Minister in the Vice President's Office Lawrence Sichalwe thanked the people for heeding President Lungu's call for peaceful campaigns.
Mr. Sichalwe who is also PF Chwama Parliamentary candidate said he is humbled with the number of the people that turned out to endorse peace and President Lungu.
Meanwhile UPND Chawama parliamentary candidate Portipher Tembo has urged Zambians to co-exist.
Mr. Tembo told that Zambians should not allow narrow partisan interest to divide them.
Meanwhile Home Affairs Minister, Davies Mwila, has instructed the police high command to arrest the people behind the attack of a woman in Sinazongwe, southern province.
Mr. Mwila says the police should move in quickly and arrest the people alleged to be behind the attack.
The Minister was speaking yesterday, during a Thanks Giving Sunday Service at Chipili Anglican Church, in Chipili district, Luapula province.
And Anglican Church Luapula Diocese Bishop, Robert Mumbi urged Zambians to cherish the peace that the country has enjoyed for the past 51 years.
And teachers Unions have called on police to quickly take action on the video that has gone viral allegedly showing a teacher being beaten by Political party cadres clad in UPND regalia.
Basic Teacher Union General Secretary, Geoffrey Simuntala, says the political violence that is being shown in the video has no room in a Christian country like Zambia.
And Zambia National Teachers Union Acting General Secretary Catherine Chinunda said teachers should be held in high esteem and they are NOT partisan.
And Ministry of General Education Spokesperson Hillary Chipango has also condemned the political violence on the alleged teacher.