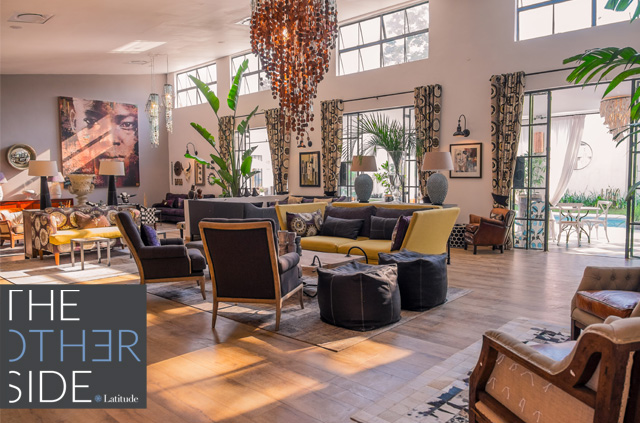 Club marks latest step in The Latitude Hotels' Pan-African development. 
The Latitude Hotels unveiled the latest addition to its Africa-wide development plan, The Other Side, an exclusive private members' club, located in Kabulonga, Lusaka. Playfully named for its position next to its boutique hotel, Latitude 15°, it is the group's second major Zambian investment following the launch of the hotel almost two years ago.
The club includes an in-house bar & lounge, restaurant, heated swimming pool, spa, gym and an array of dedicated workspaces.
"The Other Side is a unique private environment for socialising, networking, enterprise and innovation", remarked James Lightfoot, Co-founder and Director of The Latitude Hotels. "Latitude 15° has not only been a success as a residential luxury hotel, but as a socialising and networking hub amongst the local community. We wanted to extend that into a more private environment, which has resulted in The Other Side. Unlike many other private members' clubs, The Other Side will exude a more informal buzz, whether our members are looking for a place to work or relax".
Designed by Zambia's Lightfoot Designs and the Malawian design house, Katundu, the feel of the club is both whimsical and elegant, drawing on a combination of international and local influences. The majority of the furnishings and fittings were designed and made in Zambia and Malawi. The group's vision has been built around creating luxury experiences out of ethical environments, empowering women and artisans whilst utilising recycled and sustainable materials.
All memberships include a social component, but members can upgrade to Fitness, Business or 'The Other' Memberships, the latter a combination of all three. In addition to the facilities on offer the club will also craft a regular series of music, art, cultural, business and culinary events. "The idea is to keep things fresh, involving and intriguing", commented James Stuart, Director of The Latitude Hotels. "The club aims to evolve and stimulate through novel and unexpected events, continuously engaging and surprising our members".
The Other Side will also open in Lilongwe, Malawi in September. Both the group's hotel and club offerings will continue to expand across Africa. Latitude 15° will open an additional 20 guest rooms in late 2016, Kampala is currently under construction, with new developments in the pipeline in Addis Ababa, Nairobi, Maputo, Harare, Dar es Salaam and Kigali.
"We see significant opportunities, not only because of the growth of various African economies, but also because of the lack of and demand for stylish, contemporary, sociable hospitality. We don't subscribe to luxury having to be formal or predictable. Africa is changing rapidly in so many ways and we want to be a reflection of a newer, more adventurous, more entrepreneurial continent", Mr. Lightfoot concluded.
(Mwebantu.com)