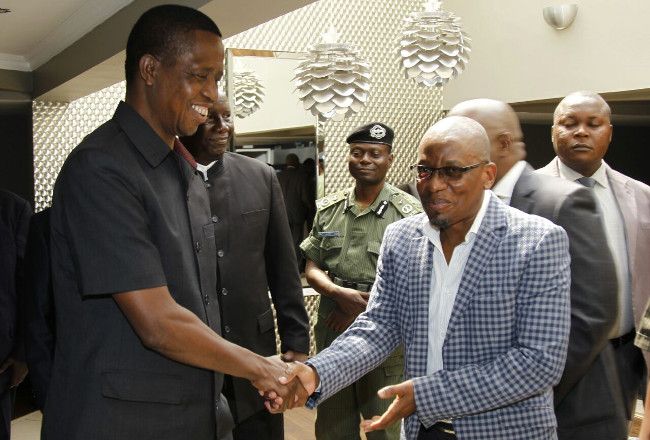 President Edgar Lungu has met business leaders at a special breakfast meeting at which he hinted at broad policy measures to accelerate economic growth and control spending during his next five tenure.
Addressing more than 70 captains of commerce and industry at Lusaka's Chrismar Hotel today, President Lungu said he aims at creating a more stable and predictable open market environment with increased consultation between Government and the business
community.
"I have five years now which is sufficient time to take more decisive action. I will take measures to grow the economy and control expenditure. Some measures will be painful but they will yield results and by 2021, and people will reward us for having taken such action," the President said to a cheering audience during a closed session.
"We have been constrained to take certain measures due to political considerations. But I am glad that one of the major benefits from the current constitutional order is that it assures stability in policy formulation and implementation because there is no fear of disruption in the Presidency, at least for a period of five years under the running-mate arrangement," he said.
"Tough decisions will be made. Some will be painful but necessary. Business confidence has oftentimes suffered because of the frequent changes in the Presidency in the last seven years."
The President said all the ministers he will appoint must be business and public-friendly because dialogue will be the hallmark of his Presidency.
He said all components of the IMF Programme will be mutually agreed saying Government and the IMF have made great progress and reached broad consensus on the key areas of the programme.
The Head of State hinted at a rapid but progressive migration to a cost-reflective tariff structure in the electricity and fuel sectors and the restructuring of the agriculture support programme under which government provides subsidies for seed and fertilizer.
President Lungu also announced plans to restructure the Food Reserve Agency into strictly an entity for purchasing strategic food reserves, a move that would reduce on FRA's demands on the Treasury.
He said the FRA has done tremendously well in reducing crop waste and now we want them to reduce on its resource demands on the Treasury.
"Zambia is a promising economy in Africa and has attracted significant regional and international investment over the last decade. However, the past decade has also shown at various times how vulnerable the Zambian economy is to the global economic growth trends and has found itself amidst a global decline in commodity prices, emerging market interest and exchange rate price volatility and ever increasing electricity utility shortages due to slow infrastructure investment, thus not being able to keep up with demand from a growing economy. As a Government, we are here to listen to you and ensure that our local businesses are protected from the absolute advantages international companies have."
Co-moderators of the business breakfast, entrepreneurs Guy Phiri and Mark O'Donnell delivered a message of congratulation on behalf of the business forum, which has organised itself as an independent think-tank to advise government on the interests of industry.
The business leaders told their stories of hope they have seen in the resilience of the economy under the difficult period of electioneering and general slowdown in the global economy.
"There was not much panic among investors during this period but instead we saw remarkable transactions by major corporations buying assets on the Zambian market," said Mr. Caesar Siwale, the CEO of Pangaea Securities Limited, a leading investment advisor.