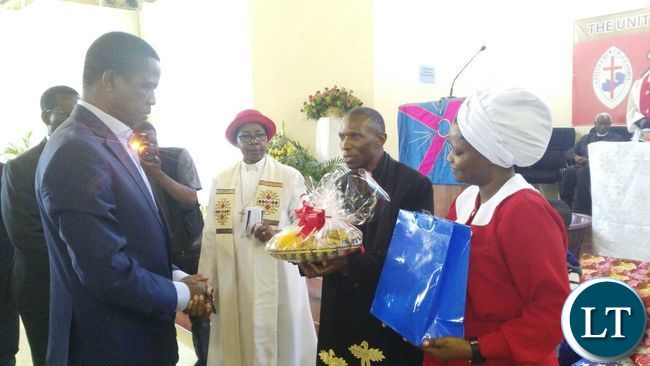 President Edgar Lungu has announced that he will create a new ministry that will oversee the religious affairs in the country.
Speaking during order of service for the reception service Reverend Bishop Sydney Sichilima, Synod Bishop held at UCZ St Andrew's Congregation Lusaka, President Lungu announced that there was need for a ministry to oversee the values of Christianity being propagated in the Republic especially that Zambia is a Christian Nation.
"Mr Chanda (Amos Chanda) when we are done with everything we need to look into this, I do not know what we shall call it whether it is Ministry of Religion but once all this is done it is something we seriously need to look into," President Lungu announced to the jubilant congregants.
He also asked for more Christians with Christian faith to take up leadership roles in politics.
"Every citizen should seek the presence of God before we look to politics, if you have Christ in your heart you will not set ablaze your friend's house," President Lungu said. Only those fed with the demon can do such acts."
And President Lungu says politicians are to blame for the tribalism divisions that have emerged in the country.
The Head of State noted the tribalism and violence was being caused by politicians.
He asked for the church's intervention to help end the violence noting that there was need for more Christians to participate in politics.
Meanwhile the United Church of Zambia has congratulated President Lungu on his re-election as Republican President.
Speaking on behalf of the Church in welcoming the Head of State Rev Dr. Peggy Mulambya Kabonde said leaders are chosen by God and move with the favour of God and anyone who touches his annoyed would be playing with fire.
Reverand Kabonde said the Church will not allow the alien behaviour of violence and tribalism to rock the land especially that the country had a peaceful democratic election.