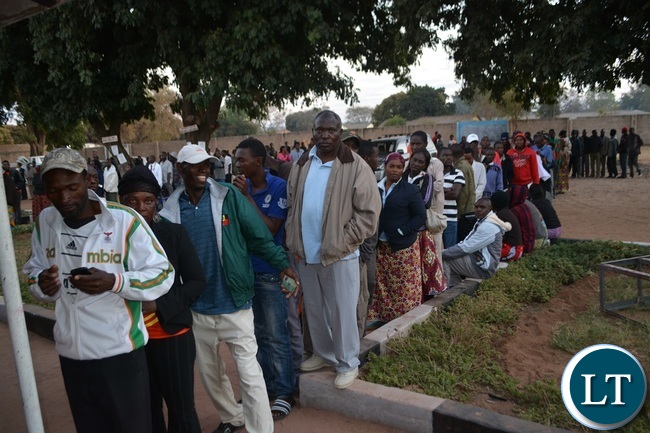 A South African good governance institute Afrobarometer has disclosed that its latest report indicates that Zambian's assessments of elections have improved with half of the population holding a view that the Electoral Commission of Zambia (ECZ) is a credible institution, reports Pan African Radio Journalist Hermit Hachilonde.
In the report unveiled to the media on 06th September, 2016, Afrobarometer Communications Coordinator for Southern Africa Sibusiso Nkomo said that many Zambians are afraid of political violence during elections.
He also said only one-third of Zambians believe that votes are fairly counted while just under two-thirds believe voters make genuine choices for preferred candidates once in a while.
Nkomo said some of the key findings were that 48% of Zambians confessed to have a bit or a lot of confidence in the electoral body adding that among 35 African countries in which the institute conducted an election survey, Zambia ranks below average, a clear indication that some trust in the ECZ has been created from 33% in 2005 to 48% in 2014.
He said 78% of Zambians construed that the September, 2011 elections that ushered in late President Michael Sata and the Patriotic Front (PF) in government were 'free and fair' despite some pockets of electoral malpractices recorded.
Nkomo added that 50% of Zambians believe citizens who people the electoral college are on a number of times if not constantly threatened with violence at the polls while 54% are gripped with electoral intimidation or violence revealing that levels of fear in Zambia are lower as compared to Zimbabwe and Mozambique.
"Less than half of Zambians (48%) say they trust the ECZ "somewhat" or "a lot". Among 35 countries in which this question was asked, Zambia ranks below average. Nonetheless, trust has increased from 33% in 2005 to 48% in 2014"
"More than three-fourths of Zambians (78%) say their September 2011 election (the last national election prior to the 2014 Afrobarometer survey) was "free and fair, but with minor problems" or "completely free and fair", an improvement from 29% in 2005"
"Half of Zambians (50%) say voters are "sometimes," "often," or "always" threatened with violence at the polls, and 54% say they fear election-related intimidation or violence. In the Southern Africa region, Zimbabwe and Mozambique have higher levels of fear than Zambia" he said
[Read 45 times, 1 reads today]