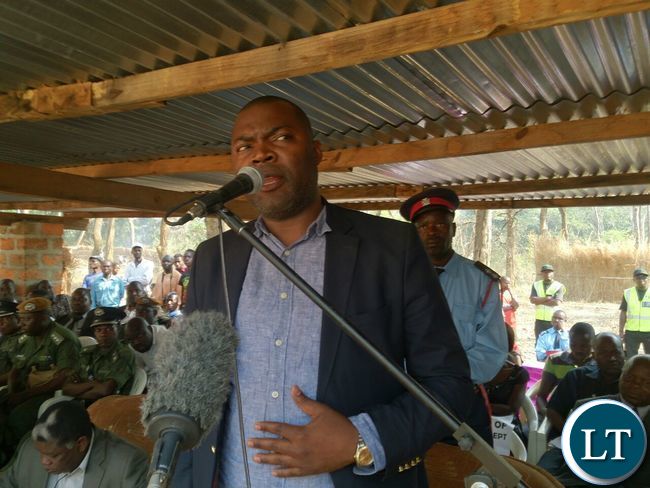 Copperbelt Minister Bowman Lusambo has warned newly elected Councillors in the province not to engage in illegal land transactions.
Speaking on Monday when he officiated at the installation ceremony of new Kalulushi Mayor Rashida Mulenga and her Deputy Modesta Kabwe.
Mr Lusambo said President Edgar Chagwa Lungu's administration will not tolerate civic leaders found selling land illegally.
"If you are coming into the Council hoping to become rich through illegal sale of land, my brothers and sisters, you are making a big mistake because this administration will not tolerate such. If found wanting, the law will take its course," Mr Lusambo warned.
Mr Lusambo said the new Councillors should place service before self and ensure improved service delivery.
He said the amended constitution has strengthened the role of the local authority hence the need for the new Councillors to quickly orient themselves with the powers in the amended constitution.
And in Luanshya, Mr Lusambo congratulated newly elected Mayor Nathan Chanda and his Deputy Councillor Elizabeth Mulenga for their election victory.
Mr Lusambo also urged the newly installed Councillors to prioritise prudent utilisation of resources.
He further called on the Mayor and the councillors to ensure they address the confusion in the markets and bus stations in Lusaka.
He emphasised that the Markets and Bus Stations Act is still law and must be respected.
Mr Lusambo said the new councillors must work hard to restore public confidence in the local authority by ensuring that they follow procedure whenever finances are involved.
He said financial discipline is key to success in running the local authority.
Mr. Lusambo said Government will not condone wastage of council funds which should instead be used to improve services for the people.
He said the Councils should also focus on innovative ways of generating income to make the local authority self-sustaining.
Mr Lusambo said newly elected local authority leadership should work closely with the central government in implementing developmental agenda.
He said the new Councillors should partner with Government to ensure that the decentralisation process that requires every citizen to take part in the governance process becomes a reality.
Mr Lusambo urged the Mayors to work with different stakeholders in developing their respective cities.