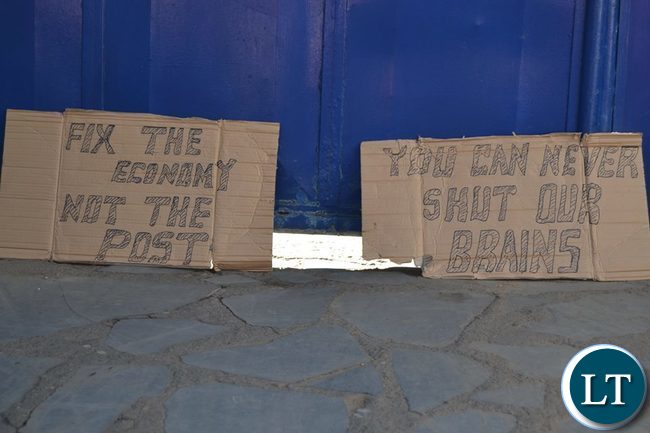 The Post Newspaper Ltd has been placed under receivership and the process of placing the newspaper under compulsory liquidation has commences.
Lewis Nathan & Company run Lawyer Lewis Mosho has since been appointed as provisional receiver in respect of all the assets of the company.
This was after five former Post employees namelyAndrew Herbert Chiwenda, Roy Haabalu, Bonaventure Bwalya, Mwendalubi Mweene and Abel Mboozi applied to the Court to have the company placed on liquidation in order to recover their terminal benefits.
The newspaper was shut down by the Zambia Revenue Authority for failing to pay millions of US dollars in back taxes on June 21.
____________________________________
NOTICE OF COMPULSORY WINDING UP
__________________________________
TAKE NOTICE that the High Court for Zambia has placed the POST NEWSPAPERS LIMITED (IN LIQUIDATION) under Compulsory Liquidation and has appointed LEWIS CHISANGA MOSHO of Lewis Nathan Advocates Lusaka Zambia as Provisional Liquidator in respect of all the assets of the company.
ALL creditors, debtors and other interested parties are hereby notified for purposes inter alia of submitting their claims with the Provisional Liquidator by delivery to the address indicated below.
Lewis Chisanga Mosho
Provisional Liquidator
Post Newspapers Limited (In Liquidation)
758 Independence Avenue
Woodlands, Lusaka, Zambia
[Read 238 times, 1 reads today]