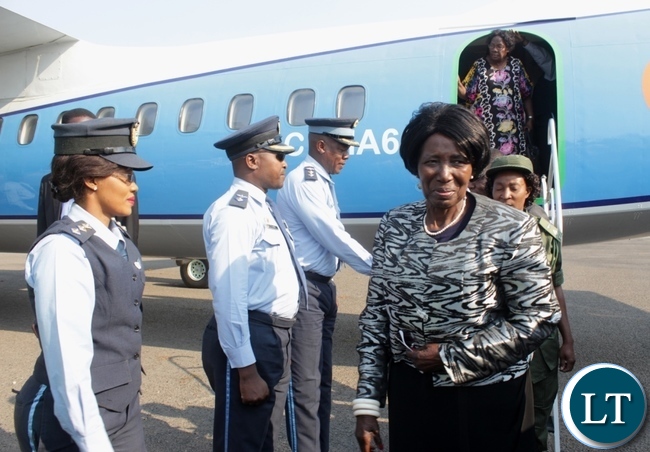 Vice President Inonge Wina has expressed disappointment at the illegal land allocation in Ndola along the Kafubu river banks and the reserved land for the construction of a car park at Levy Mwanawasa stadium.
Mrs. Wina, who arrived in Ndola this morning, inspected the two pieces of land in question and wondered why people went ahead to construct houses on illegal land.
She said it was sad that people have built their property with impunity even after relevant authorities warned about the illegality of the land.
The Vice President also wondered why the Ndola City Council has not taken any action to stop people from constructing houses knowing fully well that both areas were not designated for residential houses.
She noted that illegal land allocation was not just taking place in Ndola alone but also in other parts of the country.
Mrs. Wina said this has also become a source of concern to President Edgar Lungu and his government.
She strongly warned that government will not tolerate such levels of indiscipline in all the councils adding that it was working hard to instil sanity to land allocation in the country.
Meanwhile, the Vice President has urged Patriotic Front (PF) party officials in the Copperbelt province to work in unity and have tolerance towards one another.
This follows the squabbles that took place between two party factions that hold different opinions over land matters in Ndola before Mrs. Wina's arrival at Simon Mwansa Kapwepwe airport in Ndola today.
Mrs. Wina, who held a closed door meeting with party officials later after inspecting the two pieces of land in question, said she was confident that the party in the province will grow stronger than ever.
[Read 66 times, 1 reads today]