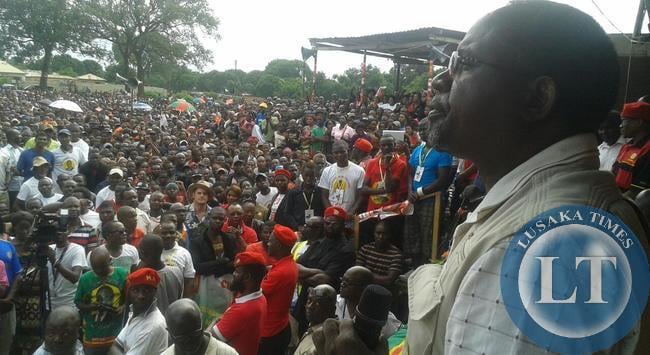 The United Party for National Development (UPND) has said that the party's performance in the just ended local Government Elections have vindicated their claim that they won just the ended General Elections.
Percy Chanda, the UPND Chairperson for Labour said that his party has been saying that the elections were stolen from them and that the PF has used the police to suppress the truth.
He said the message from the by elections is very clear that they did not just win the August election but that just like he had predicted it is the end of PF as a party.
"As UPND we have been saying that the August elections belongs to us but these thieves have been suppressing the truth by intimidating us using their brutal police. Today and many days to come will prove that HH and his Vice President GBM and the people of Zambia are the true winners of the August elections.
"The message from these by elections is very clear that we did not just win the August election but as I earlier predicted this is the end of PF as a party. The PF knows very well that they cannot win an election without stealing. This is the more reason why these thieves are in a hurry to amend the Constitution so that with simple majority they can continue stealing," he said.
He said the PF are in hurry to amend the constitution because they are scared of their crimes.
"By tempering with the Constitution they are just confirming that yes indeed they are scared thieves. Who are ridding and living on UPND's stolen victory.But let me severely warn these thieves that their days are numbered. Very soon you will pay for whatever crimes you have committed to the people of Zambia which is well documented. There is no dignity in stealing our victory apart from perpetual embarrassment that will live with you till death.
"I urge all UPND members to celebrate this victory which has vindicated you that you are the right winners to put on our Party regalia throughout the Country. In any case why should you fear a thief? One thing about thieves is that they morally weak and cowards. Remember God protects that which is right. Stealing has no place in the eyes of the Lord.
"As UPND we dedicate this victory to all our colleagues are incarcerated by this brutal dictatorial regime. Brothers and Sisters scattered throughout our filthy prisons be and remain strong God is with you. Very soon you will walk out of those prisons and then these thieves will take your places, for them they will remain there for good," he said.
The Opposition United Party for National Development UPND has scooped the Mukuba Ward Local government seat.
UPND Candidate Graddy Simukoko polled 438 votes beating his closest rival Gilbert Mushota of the Patriotic Front who polled 361 votes.
Chibwe Kaputo and Dorica Lungu who both stood as independent candidates polled 138 and 32 votes respectively.
Returning Officer Brian Mbula declared Graddy Simukoko of the UPND as the duly elected candidate for Mukuba Ward.
And speaking to the media, newly elected Mukuba Ward Councillor Graddy Simukoko said the victory means that the party is now being accepted in the province considered a PF stronghold.
Simukoko said the win is a stepping stone for the UPND in the Patriotic Front stronghold.
But this victory has been seen as confirmation of the divisions reported in the ruling party on the Copperbelt.
Senior PF officials in Kitwe said they did not campaign because of divisions in the Party.
"Just this week, senior PF officials complained of divisions and been sidelined. Now you can see these results. In fact a lot of PF officials especially the youth leadership are very happy with this loss. This party is divided and they feel like they are not benefiting anything. So its better the MMD takes over than for us to fight for a party that can't appreciate us," they said.
Meanwhile PF media Committee member Sunday chanda has disputed claims that UPND won the wards elections. Mr Chanda released the following information to the media.
CONTRARY TO SOME REPORTS IN ONLINE MEDIA, PF WINS 11 OUT OF 17 WARD SEATS
PF Won 11 Seats,  While the UPND Won 7 PF
1.. Isoka – 2 Seats
2.. Chinsali – 1 seat
3.. Chipili – 2 seats
4.. Chembe – 1 seat
5.. Masaiti – 1 seat
6.. Mufumbwe – 1 seat
7.. Nalolo – 1 seat
8.. Chipangali -1 seat
9.. Serenje – 1 seat.
UPND Won
1.. Namwala – 1 seat
2.. Gwembe – 1 seat
3.. Ngabwe – 1 seat
4.. Kembe – 1 seat
5.. Mukuba – 1 seat
The Patriotic Front won the Senga Hill council Chairmanship, whereas the UPND has won Mwandi and Kalumbila.
Below are the Consolidated Results
MUFUMBWE: PF 271 MMD 87
MASAITI: PF 595 UPND 269
CHIPILI NSENGA WARD: PF 469 UPND 163
CHIPILI MUMBWE WARD: PF 635 UPND 278
CHEMBE CHIPETE WARD: PF 577 UPND 315
CHIPANGALI LUKUZYE WARD: PF 2490 UPND 531 FDD 473 UNIP 390
MAMBWE DISTRICT COUNCIL CHAIRMANSHIP: PF 3173 UPND 1978
NGABWE : UPND 207 PF 123
KEMBE : UPND 796 PF 646
SERENJE :PF 346 MMD162 UPND 25.