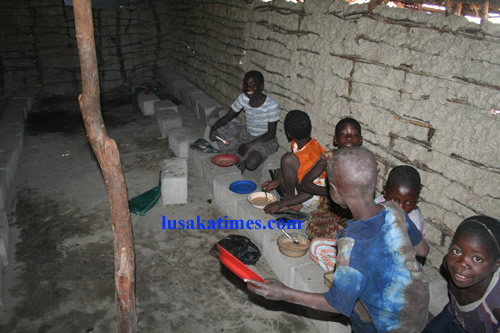 The Center of Excellence says Zambia needs a multi-sectoral approach to enhance the home grown school feeding programme.
Zambia's Ambassador to the Federative Republic of Brazil Cynthia Misozi Jangulo observed that Brazil has an amazing school feeding programme which encourages children to attend school.This is according to a press statement released to the media by First Press Secretary Embassy of Zambia in Brazil,Mr.Patson Chilemba.
Speaking when Ambassador Jangulo called on the Center of Excellence in Brasilia, the Organisation's Deputy Director Mr. Peter Rodrigues said the Center has been working with Zambia in areas covering technical assistance and how to incorporate the school feeding programme into the national prospective.
Mr. Rodrigues, who once worked in Zambia under the World Food Programme (WFP), said there had been investment in social protection in the country, but there was need to get more of the education sector involved.
"We are working closely with the Ministry of Community Development, it has worked but most countries are adopting a multi-sectoral approach and that is the only way we can do that. A multi-sectoral approach still needs a little bit of work," Mr. Rodrigues said, adding that works were also ongoing with the African Union (AU), which was also developing a Continental policy focused on home grown school feeding programme for Africa.
He added that the organization was at the moment purchasing a lot of agriculture products from Zambia into Malawi, Zimbabwe and other countries due to the country's impressive yield from the 2015-2016 rain-season, and that apart from buying produce there was a lot of help given to farmers to set up their systems and links to the Food Reserve Agency (FRA) and the South African Commodity Exchange.
He further said the Center was working with farmers on programmes like the crop insurance and the resilience programme, particularly that Zambia's Agriculture was rain based.
The WFP Centre of Excellence Against Hunger was created through partnership between the Government of Brazil and WFP to enable capacity development of national governments in areas of school feeding, nutrition, and food security. The Centre of Excellence has an initial focus on school feeding.
And Ambassador Jangulo said she had conducted tours on the school feeding programme in Brazil, and was impressed with how a multi-sectoral approach had ensured the success of the programme. A team of technocrats from Zambia also visited Brazil in 2013 for a series of meetings with various stakeholders on the school feeding programme.