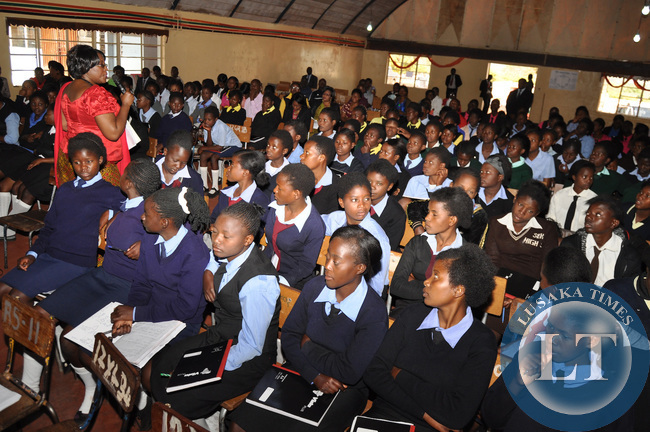 Government says it has scored significant achievements in improved access to education for girls in the country.
Southern Province Minister Edify Hamukale says it is remarkable for 98 percent of eligible girls to be enrolled into primary school in Zambia annually.
Dr Hamukale noted that education for women and girls is the engine that would take Zambia in particular and the African continent in general, on a path to sustainable social and economic development.
He however, said in Zambia this achievement was negated by relatively high dropout rates and lower literacy rates especially among girls aged between 15 and 24 years.
"Of nearly the 80 percent of girls in Zambia completing primary school, only 25 percent of our girls are enrolling in secondary school. The resultant effect being early onset of sexual activity, teenage pregnancies and early marriages," he said.
Dr Hamukale said this in Livingstone today at the opening of a conference on Leadership and HIV Prevention in adolescent girls in Zambia, at Avani Victoria Falls Resort under the theme: Adolescent Girls and Young Women Adaptive Leadership.
He further noted that with an estimated 11.6 percent of the population aged 11 to 46 living with HIV in Zambia, adolescent girls and young women were disproportionately affected.
"Thus, government has prioritized the Prevention of Mother to Child Treatment (PMTCT) service with HIV positive pregnant or breastfeeding mothers receiving lifelong treatment immediately regardless of their CD4 count.
Meanwhile, Dr Hamukale challenged the organizers of the conference to involve adolescents in interventions aimed at preventing HIV among young people.
He said young people did not subscribe to rules but if they could be engaged through sport, theatre, drama, music and social media, they could offer practical solutions to prevent new HIV infections.
"…fit into the matrix of young people as they have solutions to these challenges we are facing. Think like them as they are our partners and relevant to interventions to reduce HIV," he said.
And speaking earlier, Council of Churches Executive Director Karen Sichinga said the high number of school girls dropping out of school due to pregnancy and contracting HIV was an indication of failed HIV prevention interventions.
Ms Sichinga said young girls acquiring HIV 35 years into the epidemic was unacceptable, adding that either stakeholders implementing HIV prevention interventions were not doing something right or completely missing something during implementation.
The seminar has attracted Government representatives from various ministries such as Health, General and Higher Education Justice and Local Government, civil society, national and international NGOs and financing partners.
It is aimed at raising understanding of the urgent need for practice of leadership at different levels to adapt in order to reduce HIV prevalence among adolescent girls and young women in Zambia.
[Read 6 times, 1 reads today]