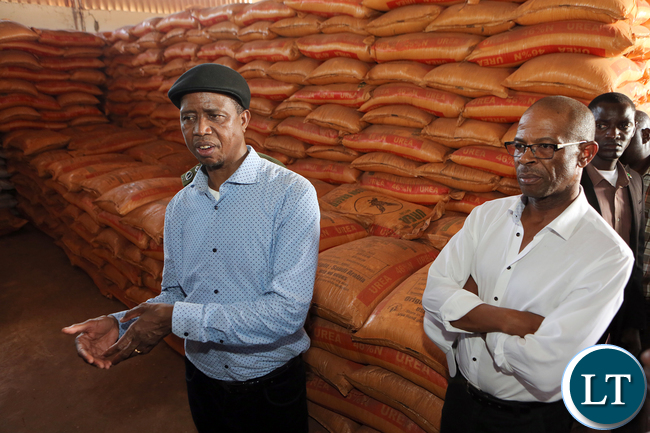 The Small Scale Farmers Development Agency (SAFADA) has commended President Edgar Lungu for directing that farming inputs be distributed to all parts of the country within a week.
SAFADA Director Boyd Moobwe told ZANIS in an interview that the presidential directive will go a long way in assisting farmers access their inputs early.
Mr Moobwe said small scale farmers are now anxiously awaiting the implementation of the directive so that they can access their inputs.
He pointed out that President Lungu intervened because he noticed something wrong with government agencies that are charged with the responsibility of distributing farming inputs.
"As SAFADA, we want to commend the President over the directive because it is important that farmers benefit from programmes that are meant for them. What this means is that the President saw something that was wrong in the system and so he had to intervene," he said.
Mr Moobwe called on all stakeholders to support the presidential directive and ensure that farmers receive their inputs within this week.
He also urged government to address complications at commercial banks that are causing delays for farmers to access their inputs under the E-voucher system.
Meanwhile, Mr Moobwe has appealed to government to consider revising the Farmer Input Support Programme (FISP) so that only vulnerable and viable farmers benefit from the programme.
He charged that FISP in its current form has incorporated a lot of people who do not qualify to access inputs under the programmes such as civil servants and other people who are not vulnerable.
The SAFADA Director proposed that government revisits FISP by engaging farmer groups in different localities to identify vulnerable but viable farmers so that only the targeted farmers benefit.
"Right now there are a lot of people who should not be on FISP because they do not qualify. That programme was meant for vulnerable but viable farmers, but we have people like civil servants and businessmen getting inputs under FISP," said Moobwe .
President Lungu yesterday directed that fertiliser dealers ensure that agro commodities reach all corners of the country within one week.
President Lungu has further directed that Ministry of Agriculture officials in all districts ensure that farmers access the commodities without undue delays and that all District Commissioners and Provincial Permanent Secretaries give a daily account of the status of the agro input distribution.