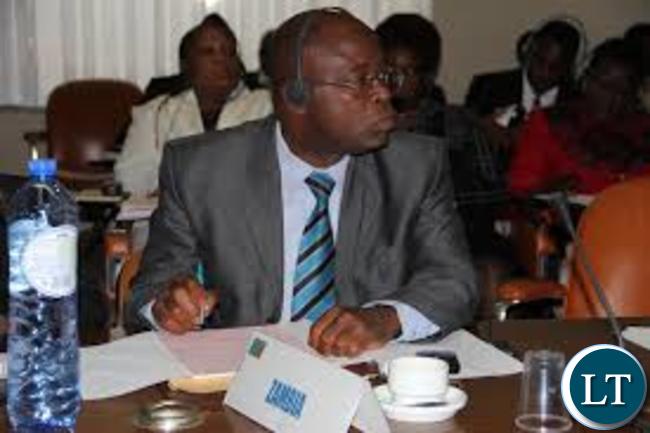 GOVERNMENT'S decision to ban the wearing of political party regalia at court is a violation of individual rights, UPND spokesman Charles Kakoma has said.
The ban, he said, was an infringement of human rights because people had a right to wear whatever they wished at any particular event, adding that no one should decide for the people what to wear without being harassed.
Last week Minister of Justice Given Lubinda announced a ban on wearing of party regalia at court premises to eliminate confrontation and political violence.
Mr. Kakoma said the ban was uncalled for.
But Green Party president Peter Sinkamba said he was in support of Justice's Ministers decision to ban cadres from all political parties from wearing party regalia at court premises because the materials made cadres behave in an uncivilized manner.
Mr Sinkamba said that there was also need for political leaders to minimize the number of supporters to courts as it was easier to control a small crowd than a large group.
"Even before the elections were held several meetings suggesting that cadres should be banned from wearing their party regalia as it was discovered that the wearing of the regalia was one of the cause of political violence'', Mr Sinkamba has said.
And Gallant Youth in Zambia executive director Henry Mulenga said the banning of wearing party regalia at the Court premises had come as a measure to curb political hooliganism that wanted to dent the image of the country's judiciary system.
Mr Mulenga said it was a shame that some political parties wanted to use force in trying to satisfy their personal agenda, saying turning the court ground into a battle field was unacceptable.
He said politicians should instill discipline to their members and use other avenues if they wanted to address their grievances, saying recent unnecessary attack on the judiciary by the UPND should not be tolerated.
Mr Mulenga thanked the Government through the Zambia Police service and the Minister of Justice for their timely interception for it was their duty to ensure that law and order was upheld. Mr Mulenga said the judicial independence should be respected by all citizens, irrespective of their political affiliation, adding that no single political party should have monopoly over national events, saying all the public institutions deserved respect.
"Time and again we have cautioned our political cadres to restrain themselves before violence accelerate to levels of even disrespecting the autonomy of honourable courts of law.
If we cannot wait for the courts to adjudicate on matters of law with a free will, then that indicates failed leadership or that those agitating violence have no alternatives to provide credible checks and balances thereby resorting to physical confrontation," he said.
Mr Mulenga urged youths not to accept being used as political tools of violence by selfish individuals. Meanwhile, MMD National Secretary Raphael Nakacinda said stopping people from wearing political party regalia was not a solution to ending political violence.
Mr Nakacinda said government should not be scared to sanction unruly cadres who behave in uncivilized manner.
"Government should not be skeptical around the issue the issue because the law is very clear on the sanction against such behaviour," said Mr Nakacinda.
And People's Party president Mike Mulongoti was against the ban because it was not a solution as regalia were not a tool for causing violence.
Earlier Minister of Justice Given Lubinda banned the wearing of political regalia at court premises following the fracas that happened a fortnight ago when police were forced to fire tear gas canisters at the unruly UPND cadres who were protesting the adjournment of the election petition by their leaders Hakainde Hichilema and his vice Geoffrey Mwamba.
Mr. Lubinda said the ban which applied to all political party cadres would will help de-politicize the dispensation of justice.