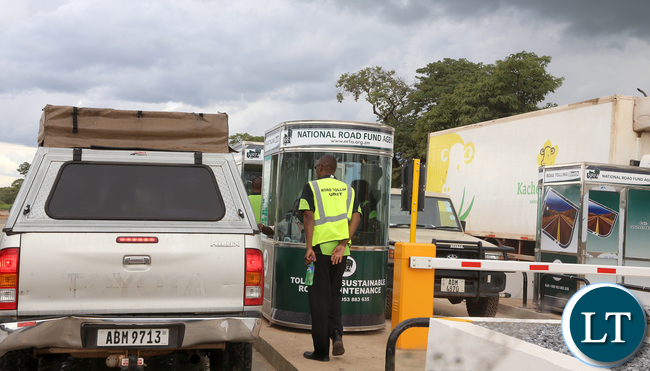 The National Road Fund Agency (NRFA) has disclosed that it raised over K450 million from toll fees in the previous year 2016.
And the agency has targeted to raise over K2.1 billion from toll fees this year, 2017 from the Tolling Programme Phase II.
Briefing journalists today during a media Breakfast Meeting in Lusaka, NRFA Acting Chief Executive Officer Engineer Wallace Mumba says the agency has grown having started with a humble budget of K849 million in 2006 to K6.6 billion in 2016 giving a total budgetary allocation of K33.5 billion by end of 2016.
Engineer Mumba says the period from 2011 to date has been iconic for the road sector having seen an upswing in the overall road infrastructure investment with over K24 billion out of the K33.5 billion allocated to the sector representing 72% of the total investment during the last 10 years.
He says within 2016, the agency commissioned three toll stations using a simple booth and boom technology and brought in new stream of revenue particularly for sustainable road maintenance.
He adds that the three inland toll stations of Manyumbi, Kafulafuta and Kafue are contributing around 10 percent of the overall annual toll revenue from ports of entry and weighbridges.
Meanwhile, the NRFA Acting Chief Executive Officer has also disclosed that there are toll sites that will be introduced this year which include Levy Mwanawasa between Ndola and Kitwe, Garnerton between Kitwe and Chingola, Kapiri to Mkushi along Great North Road, Kasama – Mbala, Choma, Solwezi – Mutanda junction, Nyimba – Petauke, Katete – Chipata.