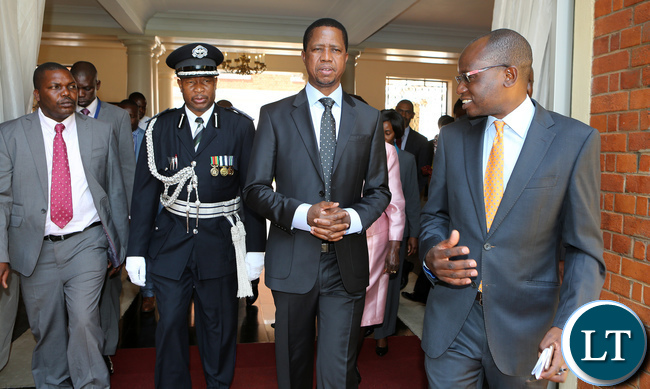 State House has noted considerable progress in controlling armyworms in districts that have been invaded but has expressed disappointment at the absence of most Members of Parliament in the operation.
Special Assistant to the President for Press and Public Relations Amos Chanda says President Lungu is deeply concerned with the absence of some MPs in the operation to control armyworms and in the distribution of inputs and seeds in their constituencies.
ZANIS reports that Mr. Chanda said the Head of State wants all MPs to emulate the Vice President, Copperbelt MPs, the Acting Minister of Agriculture and District Commissioners who have taken a lead in controlling armyworms in all the affected areas.
He said President Lungu expects all MPs to return to their respective constituencies to take a lead in combating the worms that have destroyed crops by helping farmers to spray pesticides that are being distributed by government.
Mr. Chanda said considerable progress in combating armyworms has been recorded following the distribution of pesticide in affected areas but noted that there is need for about 9,600 litres of pesticide to be sent to areas that have been badly hit by armyworms.
The President has since incorporated the Zambia National Service (ZNS) into the join team to ensure that armyworms are quickly exterminated.
President Lungu has also directed the Ministry of Agriculture to give a comprehensive statement in the next one week on the operation to control armyworms.
State house has also announced that procurement of early maturing seed will be completed today and distributing will start to ensure that places that report crop failure could be given for replanting.
About 90,000 hectres of farmland has been affected by armyworms in Lusaka, Central, Copperbelt and Luapula provinces.