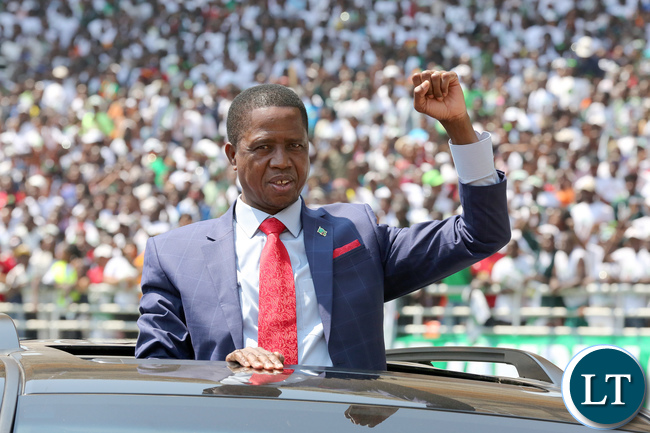 By Isaac Mwanza
President Lungu has not said anything about the current innuendos and calls by some of his members to stand for the third time in 2021 as President of the Republic of Zambia but as reputable a lawyer as he is and a man of humble background who wants to leave a legacy, his guidance to the PF and the nation can stop this uncalled for debate about him standing in 2021.
Article 106 clause 3 of the Constitution of Zambia, 1991 as amended in 2016 reads as follows:
"106 (3) A person who has twice held office as President is not eligible for election as President."
WHAT DOES PRESIDENT LUNGU BELIEVE IN?
Speaking when members of the African Union (AU) Peace and Security Council paid a courtesy call on him at State House this week, President Lungu said constitutionalism is a prerequisite for peace and security on the African continent.
The President observed that some African countries were under strife because of lack of respect for constitutionalism.
President Lungu says constitutions should not be changed at will to serve selfish interests at the expense of the majority citizens.
"Our people want peace. We can give them peace through the respect for our constitutions. Lack of respect for constitutions is a recipe for anarchy," The President said.
"Let the people's constitutions be stable. All of us are passengers and we will not be there forever. Leaders must therefore allow the law to take its course for the sake of peace on the continent. It is about the rule of law, democracy and good governance. There is also need for governments to treat former leaders with respect and dignity after they leave office," the President said.
CAN THE PF LEARN FROM THE PAST?
If there are any lessons the PF can learn from the MMD, those lessons are that the party got divided by the Third Term campaign which was championed by late Michael Sata.
The breakaway group, now Forum for Democracy and Development (FDD), was an offshot of the failure by late Dr. FTJ Chiluba to stop those campaigns. Michael Sata himself had to form his own party when Dr. Chiluba, the self – confessed political engineer, dribbled the man who had tirelessly campaigned for his third term bid.
All during the calls for Chiluba's third term bid, Dr. Chiluba pretended he knew nothing about those calls and said his duty was to just work and work. Everyone, though, knew who was behind those campaigns.
There were, of course, some very friendly private and public media that would would use subtle ways to champion those calls. The people who closely surrounded, diligently and professionally worked for Dr. FTJ Chiluba, like Richard Sakala and Eric Silwamba may be very helpful in advising the public and the PF about the dangers of these third term campaigns.
Richard Sakala and Eric Silwamba are very experienced in managing the Presidency and their advice to those who manage President Lungu may prove very helpful.
PF IN-FIGHTING IS ABOUT PRESIDENT LUNGU'S SUCCESSOR
The wrangles going on in the PF today – truth be told – are centred around the PF candidate for 2021. To me, everybody in the PF realises or ought to realise that under the current 1991 Constitution of Zambia, as amended in 2016, President Lungu will not be eligible to stand in 2021. This realisation has now divided the PF into 3 different camps as it did to the MMD.
One group, while knowing this truth, is acting with deception with a view to getting kudos from President Lungu by beginning calls for him to stand in 2021. But the way I know President Lungu, he will not give kudos to such blind loyalists who can't even read nor understand the clear provisions of the law.
The second group, acting with deception too, has seen an opportunity to try and identify a candidate ahead of 2021.
The wrangles going on in the PF today – truth be told – are centred around the PF candidate for 2021.
They subtly discuss the expired mandate of the MCCs but their actual goal is the Presidency for they understand that even President Lungu whose 5 year mandates ends in November 2019 has to be renewed. Can the PF afford to hold a convention this year to elect MCCs, and again in 2019, to elect the person who shall be the Presidential candidate for the PF in 2021, as per PF Constitution.
The third group comprises those who also are aware of provisions of Article 106 (3) but would not want to show their true colours least their benefits are curtailed by the first group of blind loyalists.
These are somehow opportunists who wait to see where the national wind blows till the last minute. We had a number of such during Chiluba's Third Term bid.
The likes of Nawakwi and Tembo who only had to speak out or act at last minute. One member of this group was quoted in the last campaigns as having told the Bemba following that "they have just given Edgar Lungu the Presidency but ikawela again". This was a serious statement whose results are beginning to show.
WHAT WOULD MAKE PRESIDENT LUNGU ELIGIBLE TO CONTEST IN 2021?
President Lungu would have been eligible to contest the 2021 elections, in accordance with Article 106 (6)(b), as read together with Article 106 (5)(a) and (b), if at a time of his first election in January 2015, he was either the Vice President or the persons elected because the Vice President was unable to act as President when Micheal Sata had died and the Speaker had taken over to supervise the elections where he was elected.
There are three options that would make President Lungu to contest the 2021 elections.
The first option is when Parliament amends the current Constitution to ensure that Article 106 (6)(b) also becomes applicable to President Lungu. We all must remember that President Lungu found that provisions already in the draft Constitution and, at the time it's was passed as it is, it's cure was not about his election or serving 1 year 7 months. It had to do with the Vice President who takes over the running of government or, due to failure by Vice President, another person is elected.
President Lungu must end the infighting within the PF by declaring that the next PF Convention to elect both the 2021 PF Presidency who automatically becomes the presidential candidate and the MCCs will be held around 2019 and 2021.
The second option is where Parliament repeals the entire Constitution and Zambia enacts a new Constitution (not just amendments). This is what Mugabe did but we know that with Mugabe, it's survival of the fittest. He cannot afford to lose power because his "enemies" will see him at The Hague, lol.
President Lungu has no such fears. Also, repealing the Constitution means we must also hold another referendum on the Bill of Rights. That is the only process that completes the process of coming up with a new Constitution where everything starts afresh, including is term.
The Third Option is when the matter is taken to the Constitutional Court and the Judges, on the path of pleasing the PF, rule that Article 106 (6)(b) is very much applicable to President Lungu (when it is not) thereby clearing his path to contest in 2021. Looking at the men and women on that Constitutional Court bench, everything is possible. The Judiciary is so highly intimidated, at this point, that they would sacrifice justice at the altar of political expediency. We are yet to see.
CONCLUSION
I know I would have loved to win kudos from those PF "loyalists", amidst "blind", if I sang the song to justify why President Lungu qualifies for 2021 but my conscience would still have been troubled.
Because I once interacted with him for a short time, I know President Lungu, because isn't one who likes false hero – worshipping for the sake of being in good books with him.
Those wanting to rely on Article 106 clause (6) (b) which talks about serving less than 3 years to make it apply to H.E. ECL ought to remember that Article 106(6)(a)(b) cannot be read without reference to Article 106 (5)(a)(b). It is not a completely stand-alone article. An argument based on this article is legally lame as the same cannot apply to President Lungu for 2 reasons:
1. He was not the Vice President at a time he was first elected as President to serve for 1 year and 7 months. The requirement of clause article 106 (5)(a).
2. He was not elected because the Vice President was unable to act and so the Speaker had to act. The requirement of Article 106 (5)(b)
On these two reasons, the reliance on that article is premature and has no basis in law.
President Lungu has held the office of the President twice and he cannot go again in 2021.
The only sure way for President Lungu to stand in 2021 is by amending the entire Article 106 by removing or rewording clauses 3 and 6 to suit the need.
President Lungu must end the infighting within the PF by declaring that the next PF Convention to elect both the 2021 PF Presidency who automatically becomes the presidential candidate and the MCCs will be held around 2019 and 2021. President Lungu can do well to begin grooming a leader who can take over from him then.
He must keep his eyes wide open way Sata kept his eyes wide open. If it was up to me, Harry Kalaba or Makebi Zulu are fine young politicians whose debates even in Parliament are more sober.
One may add young Christopher Pikiti-Kang'ombe to this list. I believe President Lungu won't allow this infighting to continue when the root of these fights is well known. He must confront the truth.
The Author is the Democracy and Governance Specialist at the Young African Leaders Initiative (YALI) in Zambia. This position does not necessarily represent the position of any body, Association or group he may belong to but represents his positions as backed by various provisions of the Constitution as quoted.