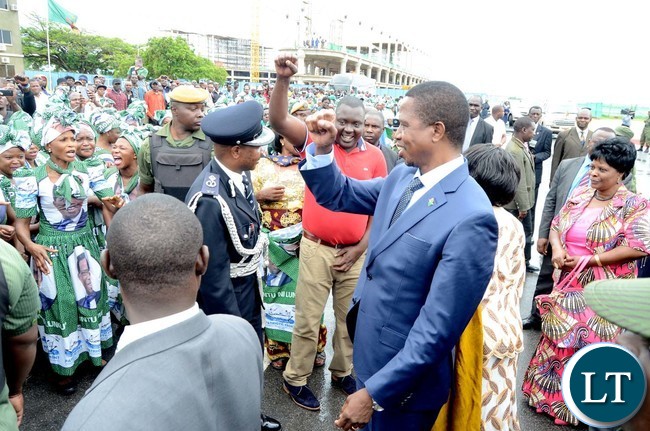 President EDGAR LUNGU has said that he chose to speak about his eligibility to stand in 2021 in order to give direction for the ruling party. President LUNGU said that he is not imposing himself but indicating his availability for candidature in 2021.
The President said that he feels it is the right time to state his position on the matter contrary to those who are saying it is too early for him to declare. The President said that he was focused on development and that he will ensure he delivers development.
President Lungu further explained that he decided to announce his availability for the 2021 general elections because there some members within PF who had been causing confusion on the matter by going round the country positioning themselves for 2021.
The President justified that it was his constitutional right to contest the general elections in 2021 once the Patriotic Front (PF) endorses his candidature. He said he was following the law when he announced that he was ready to stand to stand in 2021, adding that there was no need for anyone to rise against him.
"It is my right to contest and if the PF endorses my candidature then I will have the mandate that is how it goes.
"In fact, it is not time to worry about 2021 but I wanted to put this to rest because others were jostling and positioning themselves and bringing confusion in the party," President Lungu explained.
The Head of State said the people who positioning themselves were known hence his decision to add his voice.
"You know very well people who have been going round the country positioning themselves for 2021 so I also added my voice to them that I am also available in case they didn't know. So should that offend anybody? No," President said.
And the President has said that Government is putting in place mechanisms that will propel development in the country. President LUNGU said that government will liberalize the Agriculture sector and allow key economic players to help in driving the economy.
The President said that it was through effective collection of taxes and channeling then to key sectors that the country can witness development. President LUNGU said that he will soon meet millers in the country because he is concerned with the soaring mealie meal prices.
And President Lungu has said that his critics are only loud when things have gone wrong but are quiet when government does a good gesture. The President cited the reduction of fuel as a good thing that the critics have ignored.
And commenting on the army worms, President LUNGU said that there is need to find a lasting solution to completely eradicate army worms. The President said that investigation have shown that the recurrent army worms are cycle that come after a period of time. President Lungu said that there was no guarantee that the spraying will completely kill the worms.
President Lungu was speaking to ZNBC's INUTU MWANZA in Accra Ghana shortly before his departure for Zambia.
Meanwhile, Foundation for Democratic Process (FODEP) Livingstone Chairperson GIDEON MUSONDA has said that the constitution allows President EDGAR LUNGU to re-contest as President in 2021 if he so wishes.
Mr Musonda has told ZNBC news in Livingstone that article 106 states that the president can only be deemed to have served his or her full tenure if at the date of which the president assumed office at least three years remained before the date of the next general election.
Mr Musonda said that while it was true that President LUNGU had been elected as president twice, he was still eligible to stand in 2021 because of the first term he served for less than three years which does not qualify as a full term.
Mr Musonda said that it was important that stakeholders realise that there is the constitution of Zambia amendment act number one that provides for the transition from the old provisions to the new provisions of the constitution as amended.
Mr Musonda said that was important that the stakeholders read carefully what the constitution says in order to cut on unnecessary debates on the matter.