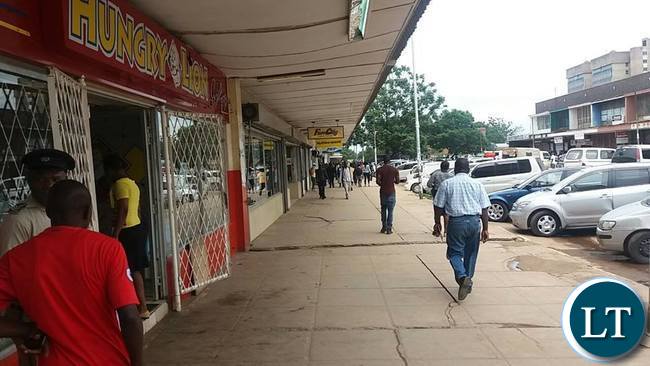 Former Minister of Information Chishimba Kambwili has expressed strong displeasure at the move taken by Kitwe Mayor Christopher Kang'ombe to remove vendors from the street.
Dr Kambwili wrote the following
The sad case of street vending.

The elite call it dirt because they can afford to shop in Shoprite, the poor call it business because that is their only source of livelihood. What happens to these men and women who seek to send their children to schools and provide for their families?.

Having heavily campaigned in the last general election I reiterated the fact that the Patriotic Front is a pro poor party and we would not remove street vendors from the streets, until we provide an enabling environment for them to thrive.

The economy is currently under enormous stress and this isn't the time for towns to compete on being the cleanest, its time to put the people first. My heart bleeds for the street vendors and I wish I could help.

Lest we forget that unemployment is high and this is a way for people making ends meat. Let us have a human heart when making life changing decisions, how can we refer to human beings selling their products as dirt ?

The sad case of street vendors, dirt in others eyes, livelihood in their own eyes. Where is the fairness ?
However, Kitwe Mayor Christopher Kang'ombe has clarified that vending in Kitwe will only be allowed along Chisokone Avenue, the road leading to Chisokone Market.
Mr Kang'ombe who this week ordered the removal of all streets vendors from the Central Business District said vendors without shops at Chisokone, appropriate vending areas will be provided.
He said his mission is leave the corridors and car parks in the CBD free.
"This initial process will take a week, and i expect that the vendors will also come with their own suggestions on alternative trading places, such as Chisokone avenue. As far as my office is concerned the only road where we can allow vending in Kitwe is Chisokone avenue," he stressed.
Mr Kang'ombe said the decision to relocate street vendors has not been without adequate and wide consultations saying his office has had a number of consultative meetings with stakeholders, namely vendors and Chisokone marketeers.
"The first formal meeting was held on 22nd October 2016 in my office where I invited two Associations representing the vendors, namely, United Street Vendors Foundation Corporative and Association of Vendors, Traders and Marketeers of Zambia. The second formal meeting was held on 16th December 2016 involving the ordinary vendors and their leaders from United Street Vendors Foundation Corporative and Association of Vendors, Traders and Marketeers of Zambia."
He added, "the more recent meeting was the consultative meeting held on 13th January 2017, leading to the decision to relocate the vendors. Since then we have been having meetings almost every day with their leaders and the vendors themselves. Notably, on the 16th January 2017, 17th January 2017 and as late as yesterday 18th January 2017."
Mr Kang'ombe said during these consultative meetings, revelations were made that some leaders of these vendors were charging K2,000 in order to allocate trading space per vendor in the central business district as a one off payment.
He said an additional K250 payment is made as rent for the wooden pallets by the vendors.
"This certainly is day light robbery by those charging vendors, and my office will not tolerate such conduct," he warned.
"In addition, ordinary residents of Kitwe walking in corridors and shop owners in the CBD have complained that there is no regulation or control of street vending, leading to indiscriminate disposal of garbage and waste in the streets. This further risks the city of experiencing water borne diseases considering that there is no conducive trading environment in the streets."
"Given the foregoing, my office will continue holding consultative meetings with all stakeholders to ensure we have a clean and organised city, especially in the CBD. in making these decisions, my office is mindful that some of the ''new'' vendors actually have trading spaces in Chisokone market and we expect them to go back to 26 markets in Kitwe," he said.