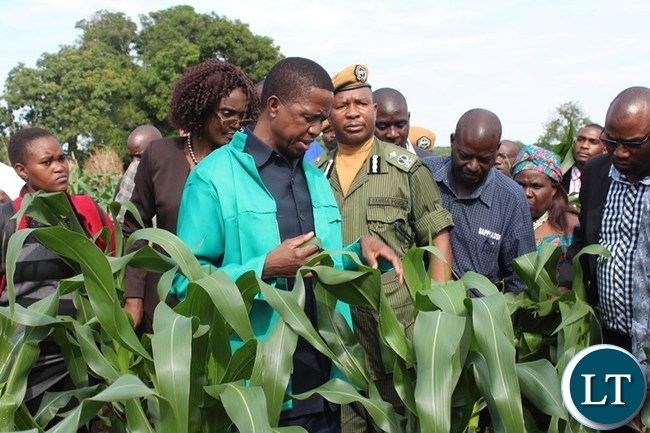 PRESIDENT Lungu says Zambia should raise its maize bumper harvest bar to 10 million metric tonnes.
He has also challenged some commercial banks to explain why they have not activated electronic cards issued under the Farmer Input Support Programme (FISP).
The President says instead of taking delight in the marginal bumper harvests, Zambia should raise the target and that this can be attained with improved management of the agriculture sector.
"It is not good to be boasting about 2 million metric tonnes as a bumper harvest when we can do better by even producing 10 million metric tonnes as a country," President Lungu said yesterday.
He said this when he paid a courtesy call on Paramount Chief Mpezeni of the Ngoni people at Ephendukeni palace in Chipata.
President Lungu said the country projects another good harvest this farming season if the farm input distribution programme is efficient and the prevailing rainfall pattern continues to the end of the season.
He said this is why he is on the ground to see what is happening in the agriculture sector in terms of farm input distribution and to assess the impact of armyworm attacks on maize crops.
President Lungu said his fact-finding mission will also assist him to find a solution for value addition for crops produced in the Eastern Province, which is renowned for groundnuts production.
Speaking earlier, Paramount Chief Mpezeni complained about the late distribution of farm inputs.
Paramount Chief Mpezeni said many farmers in Chipata have not yet received their fertiliser under the Farmer Input Support Programme (FISP).
The traditional leader, however, said maize fields in his chiefdom have not been infested by armyworms and thanked President Lungu for coming to inspect other areas which have been ravaged by the pests.
In response, President Lungu said he expects people spearheading the e-voucher system to revert to the conventional one after noticing challenges in the new system.