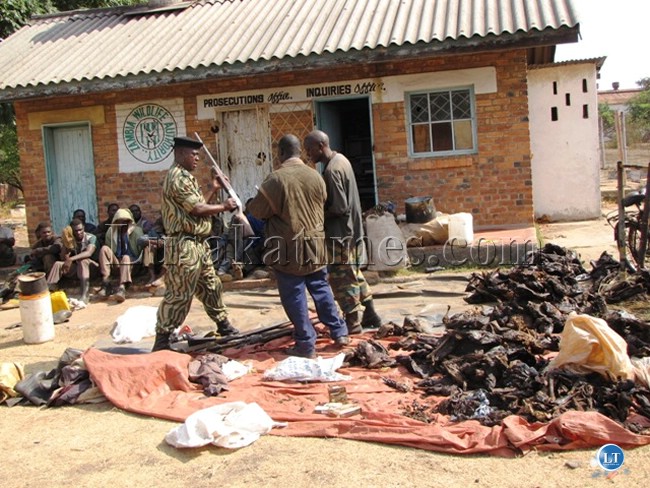 Poachers have shot dead an officer from the Department of National Parks and Wildlife (DNPW) at Luangwa Game Management area in Nyimba
district of Eastern Province.
Eastern Province Police Commissioner Alex Chilufya confirmed this and identified the deceased as Roderick Ngulube who was shot at
Mweteshi stream on Sunday around 07:00 hours.
Mr Chilufya said that there were six wildlife officers while the poachers were seven in number. The poachers managed to escape after the shooting incident.
Mr.Chilufya said police have launched a manhunt for the seven poachers who shot dead an officer.
"There was a shooting incident of one Zawa (DNPW) namely Roderick Ngulube who was shot dead by poachers at Luangwa Game Management area.This occurred on February 12th 2017 at around 07:00 hours at Mweteshi stream in Nyimba,"Mr Chilufya said.
In a similar incident, poachers on Sunday wounded an officer from DNPW in Nalusanga National Park of Kaoma.Tourism and Arts Minister Charles Banda who confirmed the development said the officer was expected to be evacuated for specialised treatment.
The minister called upon the police at Nyimba and Kaoma to quickly arrest the poachers who shot dead and wounded the officers from DNPW.
"I am in Nalusanga National Park of Kaoma District in Western Province where an officer was wounded by poachers yesterday (Sunday). It is unfortunate that poachers have resolved to shooting our officers and let me call upon the police in Nyimba and Kaoma to bring to book the poachers before they get out of Luangwa Game Management and Nalusanga National Park," he said.
Mr Banda said poaching should not be entertained because it might lead to depleting of the wildlife.He advised DNPW officers not to give up but step up the campaign to ensure that all efforts were made in order to bring to book the seven poachers who escaped from Nyimba.
The Minister said his officers should continue to guard against poaching stating that the destruction of wildlife should not be
allowed.He said the preservation of wildlife had the potential to create of jobs in the country.
[Read 86 times, 1 reads today]