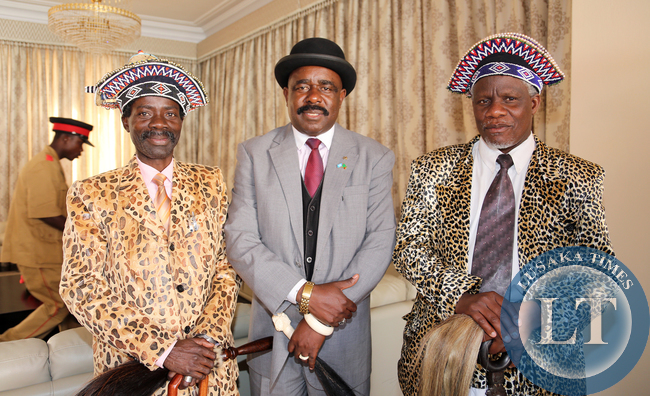 Senior Ishindi of the Lunda speaking people in Zambezi says the manner Police handled the issuance of permits to political parties during the run up to the 2016 general elections contributed to political violence.
The traditional leader said the police is the basis to holding peaceful elections in the country and the issuing of permits for holding public rallies was not handled properly and this caused tension among party cadres.
ZANIS reports that the senior chief said this in his submissions before the commission of inquiry into the voting patterns and electoral violence in Zambezi district at Mukanda Nkunda capital yesterday.
The traditional leader said police should have controlled the movement of cadres from one place to another as this contributed to provocation and insults which resulted in violence.
Although Zambezi district did not experience physical violence during campaigns, the senior chief felt that police failure to stop violence only advantaged the ruling party at the same time created apprehension in the opposition's strong holds.
"The opposition was agitated, they felt unprotected by police who is supposed to provide protection to all citizens regardless of one's political party affiliation, so the others felt offended and showed their anger in voting, " Senior chief Ishindi said.
Senior chief Ishindi also said the people in his chiefdom where expectant that government was going to deliver the report on the findings of the committee instituted to investigate the cause of the ethnic Luvale / Lunda conflict before the 2016 election.
He said his subjects are not happy with delay to deliver the outcome of the investigation because it was denying them their right to enjoy their inheritance.
"There has been four committees constituted by different governments, since 1971 to 2015 over the ethnic conflicts between the Luvales and the Lundas but we have never known the outcome, my people are not happy because they cannot enjoy their inheritance." Senior Chief Ishindi said.
But Senior Chief Ndungu of the Luvale speaking people said the unresolved tribal conflict between the two tribes was greatly affecting the development of the district.
He explained to the commission of inquiry into the voting patterns and electoral violence when it called on him at Mize capital that he feels government has not been firm in ensuring that the ethnic conflicts are resolved.
Senior Chief Ndungu said tribalism in the province may take time to end because it was being compounded by traditional cousinship between the Kaonde people and the Lunda who cannot support the Luvales in any development endeavors.