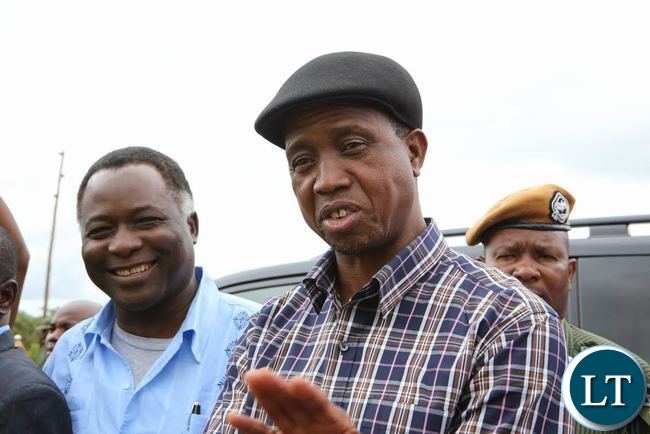 President Edgar Lungu says any citizen who continues to refuse acknowledging him as Republican President risk facing severe consequences.
Mr. Lungu said ( although ) those in denial about his Presidency thought they were playing games, the consequences could be bad for them.
Speaking on arrival at Harry Mwaanga Nkumbula International Airport in Livingstone today, President Lungu said he was President for all Zambians even those who did not vote for him in the previous General Election.
President Lungu who was received by Southern Province Minister Dr Edify Hamukale, Provincial Permanent Secretary Sibanze Simuchoba, senior government and PF party officials, is in Livingstone ahead of a visit by his Moroccan counterpart, his Majesty King Mohammed VI.
"Some of you might be wondering what I am doing in Livingstone. This is the tourist capital and if you do not accept me as President, then accept me as a tourist," he said.
President Lungu further said he was free to visit any place in the country as Zambia was his constituency.
"I am free to go to any place in Zambia because the country is my constituency. Thus, am responsible for all Zambians including those who did not vote for me; I am responsible for their health, education and all that government is obligated to do," he said.
Mr. Lungu said even those who did not acknowledge him as President were welcome to benefit from his services.
He however, said he would not force anyone to work with him and added that those who refused to recognize him as President should not complain when he ignored them.
Meanwhile, President Lungu bemoaned that Zambia was lagging behind in terms of development due to politics.
"Some people want to politicize everything. We are one Zambia, one nation and we have one vision which unites us and improves the lives of the people," he said.
Earlier, Dr Hamukale reiterated that the PF in Southern Province endorsed President Lungu as the sole candidate for the 2021 General Election.
"We have one PF in Southern Province and we have made a decision your excellency that we don't want any other person come 2021, as our man and preferred candidate is Edgar Chagwa Lungu," he said.
And on tourism, Dr Hamukale said he believed Zambia's economy could improve through tourism.
He said Livingstone had numerous opportunities and so much to offer in terms of exports to neighbouring Namibia, Zimbabwe and Botswana.
"We believe in your leadership, Government and know that whatever we bring to your attention, you respond with action," he said.
While in Livingstone, President Lungu is expected to meet operators in the tourism industry and heads of government departments.
[Read 10 times, 1 reads today]