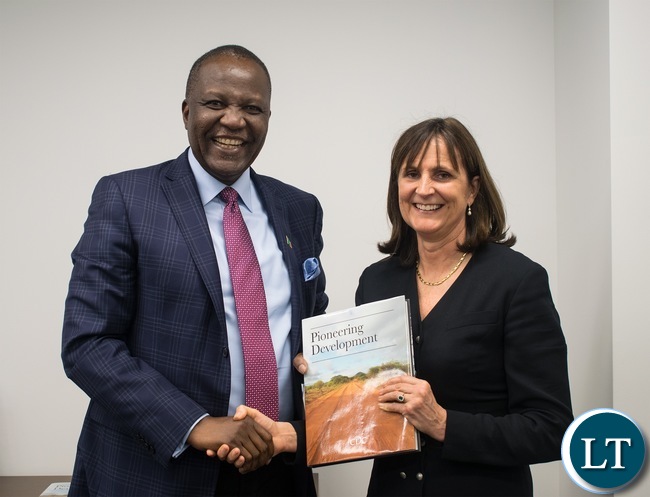 Zambia's Finance Minister Honourable Felix Mutati has said the long-term answer to development of Africa in general and Zambia in particular is enhanced domestic resource mobilisation.
He said this during a meeting with the Commonwealth Development Corporation (CDC), the UK's development finance arm that has expressed interest to invest in the Kalungwishi Hydro generation project. The project investment cost is estimated at US$690 million with an installed capacity of 247 MW.
In an exclusive interview after a meeting with CDC in London on Wednesday, Hon. Mutati said that aid dependence was not sustainable for Zambia and Africa in general. He stressed the significance of the complimentary role that investment plays in sustainable development.
"The key issue about the economic recovery in Zambia is that unless you get quality investments that contribute to the treasury through taxes, it is difficult to boost domestic revenues. We can get money from our cooperating partners such as DFID who are helping us with education, health and public finance, but the dependence on such support is necessary but not sustainable. You need to depend on yourself, and the future of Zambia and Africa in general is domestic resource mobilisation, which is going to be the long-term answer to development. For me it is the long term answer to recovery of the Zambian economy going forward, which will create jobs, create wealth and much more importantly, inclusive growth," he said.
The Minister said that the answer to inclusive growth is investment such as that made by CDC in the agriculture sector, through Zambeef supporting out growers. He said that such investments could transform the economy and create inclusive growth.
"We are focusing on two sectors of Energy and Agriculture in line with the Seventh National Development. Last year, we suffered a 50 percent power deficit, which negatively impacted not only agriculture but also other major sectors such as industry and mining. Power is central to economic development and having answered to power then you have to answer to areas where you can generate and bring hope to the people, and agriculture becomes your number one choice because of the number of people that depend the sector," he said.
And the Minister said that CDC investment in Zambia has created jobs and contributed to economic development in the country. He noted that CDC has been present in Zambia for over 50 years in Zambia through its investment in Chilanga Cement made in 1949 and remained involved in Chilanga Cement for a number of years and led the company to be the first business to be listed on the Lusaka Stock Exchange in 1995.
He said that apart from Chilanga Cement, CDC also invested in the Kariba Dam and last year invested $65 million in Zambeef. The investment will enable Zambeef to grow the business, in particular its cold chain food processing businesses as well as expanding its distribution and retailing platform within Zambia and adjoining markets. This will widen Zambian consumers' access to Zambeef's range of products.
"Recently CDC invested $65 million and what that has done is that it has provided the diversity in Zambeef, going into hatchery, therefore creating an opportunity of increasing the space for tax revenue collection. For me I see this as a cure for dealing with the disease called fiscal deficit, and is a key component for the recovery programme," he said.
Mr. Mutati also said that CDC is considering investing in hydro generation and that the Group will reach out to its partners for possible co-financing some of the projects.
"On the Government side, we shall ensure that we facilitate by eliminating obstacles to the realization of the investment and will implement policies that support such investments," he said.
He also said that CDC had agreed to come and hold an investment forum in Zambia in April, 2017 that will look at how it could make funds available, through the Commercial Banks, to support long term lending to SMEs and Medium sized companies and how it can support anchor investors such as Zambeef to expand their operations including out growers and how CDC can structure venture capital, to handle new investment ventures.
And CDC Chief Executive Officer Diana Noble said CDC was happy to work with Zambia and will continue partnering with the country because it was committed to economic development.
Earlier Hon. Mutati had a meeting with Hon. James Wharton, Minister of state for DFID, during which he said that DFID was a significant partner to Zambia which had supported the country in areas such as public finance management reforms, water and sanitation, health and social protection.
"We had a program with DFID which came to an end in December, so the purpose of the meeting was to agree the next round of discussions with DFID on another program. For us the programme should reflect the priorities in the recovery programme for Zambia mainly focusing on energy and agriculture as key pillars to turn the economy around" Mutati said. He also confirmed that the DFID Minister has agreed to meet in Lusaka in four weeks' time at which the two countries will start discussions on construction of a new strategy for support that DFID will provide to Zambia.
The Minister was accompanied to DFID and CDC by: Mr. Mukuli Chikuba, Ministry of Finance Permanent Secretary (Economic Management and Finance), Zambia's High Commissioner to the United Kingdom, His Excellency Mr. Muyeba Chikonde, officials from the Ministry of Finance and Zambia High Commission in London.