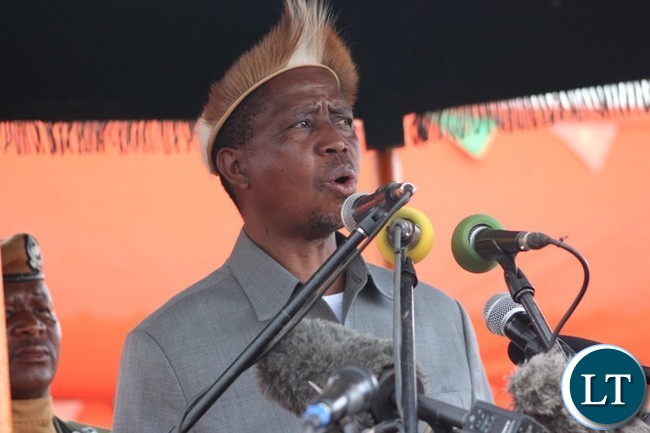 President Edgar Lungu has observed the need for Zambians to live in harmony regardless of beliefs, denomination, tribe, race, political affiliation and backgrounds.
The Head of State said this in Chipata District during the Nc'wala Ceremony Traditional ceremony at Mtenguleni Village.
President Lungu says there is need for people to know that all citizens belong to this nation.
He notes that hardly a day passes without having to hear or read about insinuations of tribalism.
The Head of State states that this country was not founded on divisive thinking or behaviour, but on values that engenders harmony and that Zambians must advance a broad-based agenda that speaks to the diverse interests of all Zambians.
He reminds the nation that Zambia was founded on the firm principle of unity in diversity, under the motto "one Zambia one nation" saying that is why he will not tire in his efforts to promote national unity.
President Lungu also says he will continue to enlist the wisdom and support of traditional leaders and other stakeholders.
President Lungu also says this year, government is commencing the construction of the US$ 2.3 billion Chipata – Petauke – serenje railway line which is expected to create more than 8000 jobs.
He says he expects that all government departments involved in this project to adhere to the timetable to start construction no later than May 2017.
Speaking at the same ceremony, Paramount Chief Mpezeni commended Government for according Chipata with a city status.
Speaking through the Nc'wala traditional ceremony National Chairperson, Brighton Ngoma, Chief Mpezeni says Eastern Province has seen various developmental programmes which have led to economic growth.
Paramount Chief Mpezeni also announced that Eastern Province has seen a reduction in child marriages from 63 percent in 2013 to 40 percent this year.
He stated that the province used to record the highest cases of the ill vice and is now rated third in the country.
The Nc'wala traditional ceremony was held under the theme, 'Unity and tolerance.'