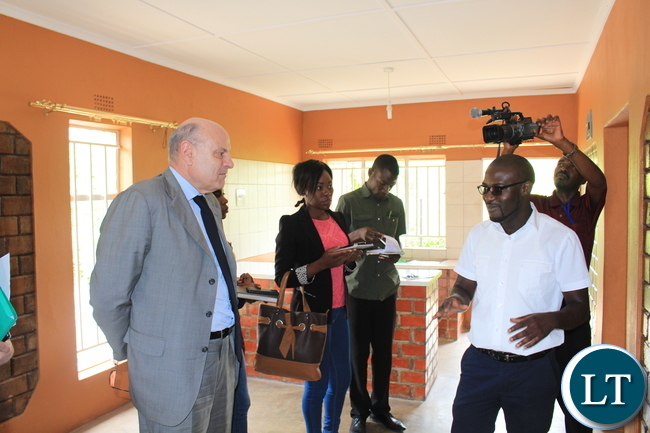 The French Minister of State for Development and Francophonie, Hon. Jean-Marie LE GUEN visited Lafarge Zambia yesterday to show solidarity with French private investment in Zambia in their focus towards promoting social development. The Minister visited Lafarge Zambia's Chilanga Plant and some initiatives that Lafarge was pursuing in terms of its Sustainable Development Programme.
The Minister was welcomed by the Lafarge Zambia Chief Executive Officer, Mr. Vincent Bouckaert, who pledged support to Zambia's social and development programmes. Mr Bouckaert explained that the Company was implementing the LafargeHolcim 2030 plan which was a commitment to contributing to the attainment of the UN's Sustainable Development Goals. He said in Zambia the actions included the Masukani house ownership programme which involved the sale of 359 houses at a deep discount of 35% to employees and former employees while donating 72 houses to Zambia Police and the Ministry of Education. The next phase included the development of of 300 houses using affordable housing technology which the Company is helping to develop working with the Green Jobs Zambia programme, supported by the International Labour Organization.
Speaking when he toured the Affordable Housing Demonstration houses in Musamba Compound, the French minister said that France and Zambia have a good working relationship which would yield see economic and human development. "We want to improve the relationship with the Zambian Government and the French companies in Zambia and Lafarge is a big French company in the cement sector but they are also involved in the Social and Environmental projects which will improve economic and human development in the country", He said.
Mr. Le Guen further said that he is expected to sign a Memorandum of understanding with the Zambia Government to facilitate the young people's participation in the energy sector. The Minister was accompanied by the French Ambassador to Zambia and special representative to Common Market for Eastern and Southern Africa (COMESA) His Excellency Mr. Emmanuel Cohet.
Mr Le Guen is on ministerial visit in Zambia after the official visit of HE President Edgar Chagwa LUNGU to France in February 2016.