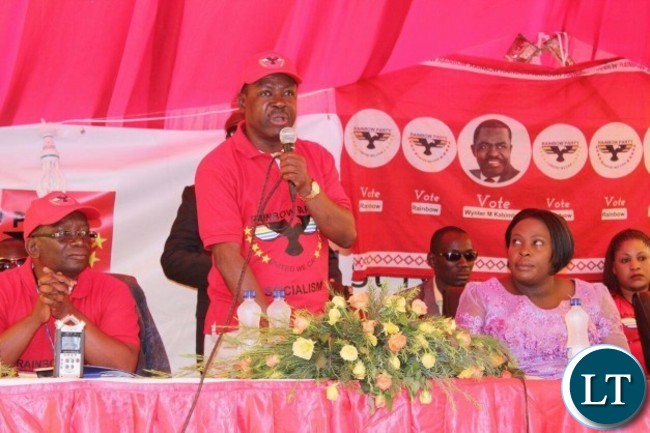 Rainbow Party (RP) leader Wynter Kabimba has reiterated his prior statement alleging that having many foreign investors in Zambia is not a yardstick to uplift the economy, reports Pan African Radio Journalist Hermit Hachilonde.
Speaking during a media briefing in Lusaka recently, Kabimba insisted that the Zambian economy will only be revamped when citizens themselves begin to vigorously participate in all economic activities and take full control of the economy.
Kabimba who believes much in socialism political ideology said the international corporations are merely interested in making huge profits at the expense of the majority poor Zambians.
He urged the Zambian Government to emulate the US President Donald Trump who has prioritize Americans in all fronts, affirming that local investment is the panacea to the country economic recovery.
"only Zambian investors will develop Zambia economically" Kabimba said
And the opposition leader Wynter Kabimba said contemplating on bringing the International Monetary Fund (IMF) into Zambia who recently stated that the Zambian economy may only grow by three percent will only take the country backwards economically.
He said the if IMF failed to address issues of abject poverty for Zambia when the economy was growing by 6.5 percent per annum, involving them again will be a sheer waste of time and a hurdle to Zambia's economic recovery.
"IMF already failed in Zambia, why bringing it again" he said
And Kabimba said the status quo is that Zambia is on high speed moving backwards in all fronts because of her economy which is exclusively in foreign hands.
"Zambia is moving backwards because the economy is exclusively in the hands of foreigners" Kabimba said