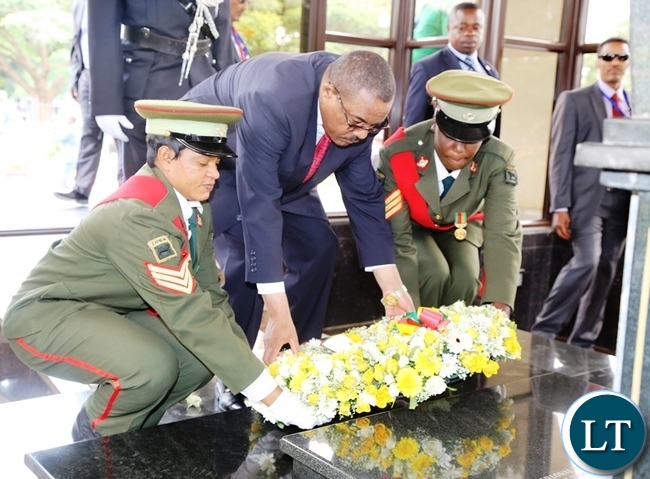 Visiting Ethiopian Prime Minister Hailemariam Desalegn says Africa should learn from Zambia's democracy.
Mr Desalegn says the smooth transfer of power by the five presidents Zambia has had is evidence that Zambia's democracy has grown.
He has also noted the respect that Zambians have for their elected leaders.
The Ethiopian Prime Minister who is in the country on a three day state visit was speaking to journalists after laying wreaths at the presidential burial site in Lusaka.
Meanwhile Ethiopian Foreign Affairs Minister, Dr. Workineh Gebeyehu says there is need for Zambia and Ethiopia to work together in coming out of their economic challenges.
Dr. Gebeyehu has noted that the economies of the two countries are both under immense pressure due to some external factors.
He points out that the growing trade imbalances, fluctuating currencies, shrinking GDP growth and natural disasters such as climate change have also contributed to the current economic challenges facing the two countries.
The Ethiopian Foreign Affairs Minister said this during the Zambia/Ethiopia Joint Permanent Commission (JPC) meeting in Lusaka today.
Speaking at the same meeting, Foreign Affairs Minister Harry Kalaba says a number of memorandums of understanding in various sectors will be signed during the during the stay of the Ethiopian delegation in Zambia.
Mr. Kalaba has also stressed the need for the two governments to remain committed to the JPC decisions and ensure that they are implemented as agreed in the signed agreement.