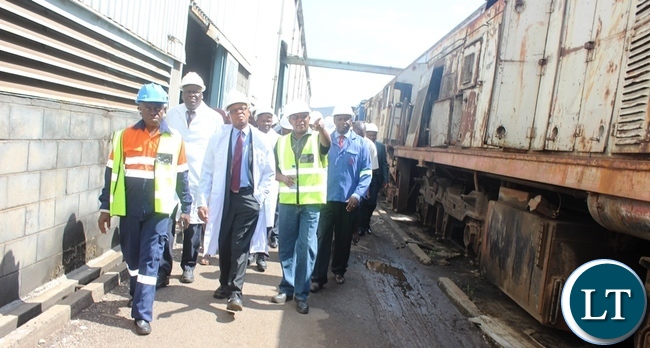 THE Parliamentary Committee on Communications, Transport, Works and Supply has called for recapitalization of the Zambia Railways Limited to cushion the pressure on the country's road infrastructure.
Committee chairperson Douglas Siakalima said although there were a number of competing needs in the country, the railway company needed adequate injection of capital to make it viable and operate effectively.
He was speaking in an interview soon after the six member committee inspected the operations at the Zambia Railways in Kabwe on Thursday to appreciate the progress made by the firm.
Mr Syakalima who is also Chirundu Member of Parliament noted that the company was doing a tremendous work by rehabilitating some of the old locomotives but could do even better if the company was given more money.
"I know that there are competing needs in the country, but I think it is important to recapitalize huge investment like this one; we should not just let it go like this," he said.
"We also think that if Zambia Railways was helped in terms of recapitalization, we will know that we will offload the pressure on our roads so that many of the goods are transported using railway which will make the lifespan of our roads longer.
Mr Syakalima noted that effective railway transport in Zambia could also help to reduce the current high road traffic accidents in the country as well as loss of goods on transit.
Msanzala Member of Parliament Peter Daka who is one of the committee members said it was a myth to suggest that US $120 million Eurobond which was given to the railway company had been misused.
Mr Daka who is also former Transport Minister and communications Minister said there had been a lot of work including the reconditioning of engines for the trains that should be appreciated and supported by every Zambian.
"I have seen what is going on where the generators and the engines are being put together and there is serious work that is going on and if Zambia Railways is given more money, it can do better than the expectations that are outside," he said.
He said the management at the company had put in so much to resuscitate the company and parliamentarians would support every effort that was being made.
Earlier, company chief executive officer Christopher Musonda told the parliamentarians that the company had moved about 634,500 tonnes of cargo in the past one year and generated K173 million.
Mr Musonda however noted that the reduction of imports and exports as well as operational constraints in neighbouring countries had limited the income generation.