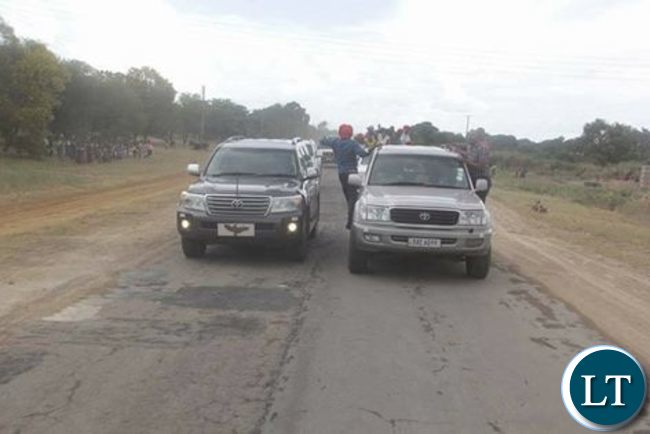 Inspector General of Police Kakoma Kanganja says police officers acted in a responsible way by overtaking UPND leader Hakainde Hichilema's motorcade to avoid loss of life in Mongu on Saturday.
And State House Spokesman Amos Chanda has condemned Mr Hichilema's conduct describing it as foolish.
President Edgar Lungu's motorcade and Mr Hichilema's almost clashed as they headed to Lealui for the Kuomboka ceremony.
But Mr Kakoma said the officers acted in a reasonable way by overtaking Mr. Hichilema's motorcade to avoid loss of life.
He however warned that the Zambia Police is not going to sit and watch such lawlessness in the country.
"If what is portrayed in the Picture circulating on social media concerning the motorcade of Hakainde Hichilema is a reflection of what truly happened, then it is very unfortunate because such actions of failing to give way to a Presidential motorcade are tantamount to obstruction of road way as well as endangering the life of the President," Mr Kakoma said.
"However, I am still waiting for a full report on what transpired from officers who were on the ground and appropriate action will be taken in accordance with the State Security Act and other relevant pieces of Legislation," he said.
But President Lungu's Special Assistant for Press and Public Relations Amos Chanda said Mr Hichilema and his Vice President Geoffrey Mwamba acted foolishly.
"Route lining was done. HH passed major check points in good time but slowed down so Eagle One can find him on the way which happened. We had two options: to slow down and allow him to reach Limulunga or to bump him off and create some scene of sorts which is what he wanted," Mr Chanda said.
He added, "A decision was made to bypass him and in our mind we were clear no danger was posed to HE unless HH himself would ram his car into Eagle One. A split second decision would be made to prevent that cause at that stage any movable object in motion or stationery is constantly on target from some close range, which is why it was spectacularly foolish for HH and his minders to place themselves into that real and eminent danger!"
He said, "Secondly, as per established security and protocol orders, a decision to bump off all strange objects was made but a quick consultation upwards resulted into a different option which was undertaken."
"Thirdly, as the result something happened that made HH and GBM and their entourage to remain outside the arena some 500 meters away instead of being in the VVIP shelter some 5 metres away from where the Litunga was disembarking from the royal barge! From the Harbour, that foolishness cost them the vantage point cause as soon as guest of honour passed royal and state protocol did not allow anyone to pass."
Mr Chanda further said, "As a result, two men hobbled away in shame even before the king could rise to enter his summer palace. As I write today a royal banquet is taking place and the two men left for Lusaka two hours ago, their seats empty notwithstanding the cows and mealie meal they donated!
Mr Chanda said, "if there is such a successful cooperation between security and PR since I got into State House this was one of them. We decided to neutralize it as minor incident and leave the Kuomboka intact after such a long time of its absence. Moreover, there is something we are seeing here politically which we cannot waste away in a foolish Hakainde stunt."