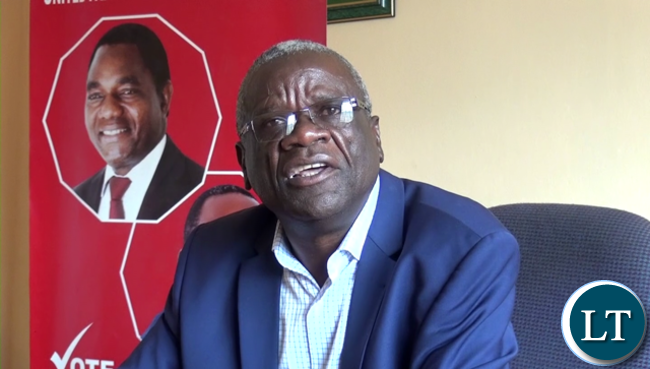 A gun scare may lie behind the arrest of UPND Secretary-General Stephen Katuka, who was apprehended as he attempted to visit HH at Lilayi Thursday.
Party spokesman Charles Kakoma confirmed that Mr. Katuka whose whereabouts are not known was arrested when he went to visit their leader Hakainde Hichilema
Mr. Kakoma said reasons for the arrest were only known by the police but that Mr. Katuka like any other citizen had gone to visit Mr. Hichilema in the company of his junior officers at Lilayi training college where HH is detained.
"I can confirm that Mr. Katuka has been arrested, and his whereabouts are well known to the police. Whether he was detained at Chilanga police as speculated or not we do not know, but the police are in a better position to give reasons why has been arrested.
"And they know better where they have taken him. He was in the company of other junior party officials who went to visit our leader Mr. Hichilema at Lilayi police," he said.
He refuted allegations that Mr. Katuka was found with a gun saying if indeed that was the case it should still not have been an issue because Zambians were not prohibited from owning guns provided they were licenced to carry firearms.
"It is not an offence to own a gun as a Zambian as long as it is acquired professionally or constitutionally. Owning a gun could not be an issue, anyone can have it," Mr. Kakoma said.
The police were apparently concerned that any harm befalling Mr. Hichilema who was in their custody would be attributed to them, "Anything untoward resulting from their internal party squabbles would easily be blamed on the police," a source said.
They were also concerned by the manner Mr. Katuka conducted himself as they had prohibited visits.
Attempts to get the Inspector-General to confirm the arrest went unanswered and police spokeswoman Esther Katongo, promised to revert to the Daily Nation today. Calls to Mr. Katukas' number went unanswered as the number was out of reach.
However, police sources alleged that a gun was found on Mr. Katuka thereby raising serious security concerns.
Meanwhile police have denied that Mr. Hichilema was poisoned as suggested by UPND lawyer Jack Mwimbu.
He told the Mast newspaper that Mr. Hichilema was unwell as he had been poisoned.
Police spokesperson Esther Katongo told the Daily Nation in an interview yesterday that it was not true that Mr. Hichilema was poisoned.
"It is not true that he was poisoned. Those are unfounded accusations just trying to incite their members and we are ready to take him for tests at the hospital to show that he is not poisoned," Ms Katongo said.
And an opposition leader has charged that Mr Mwiimbu must stop alarming the nation that Mr Hichilema has been poisoned without proof or any medical report.
Speaking to the Daily Nation in an interview yesterday, 3rd Liberation Movement president Roosevelt Tonga said that Mr Mwiimbu's allegation had caused alarm in the country but there was no evidence to that effect.
Mr Tonga said that the UPND lawyer should concentrate on researching the charges his client was facing and stop diverting to matters that had no proof.
"It is normal for someone to feel unwell after all that transpired and the environment he was in, but assuming that he was poisoned was not the right angle to take," he said. He said Mr Mwiimbu must provide evidence because ''poisoning was not a small issue to overlook''.
He also said that passing statements and assumptions on Mr Hichilema's health must stop until evidence was brought forth to show that the poisoning was true.
"Such statements can cause disputes and confusion in the country especially if UPND supporters decide to react," he said.
Mr Tonga also said that security wings must investigate the allegation because it was serious. "The State must be very careful on who is bringing out statements that have no direction and alarming the situation in the country," he said.
Mr Tonga said that the media should also stop publishing false information ''all in the interest of making a name''.
[Read 68 times, 1 reads today]