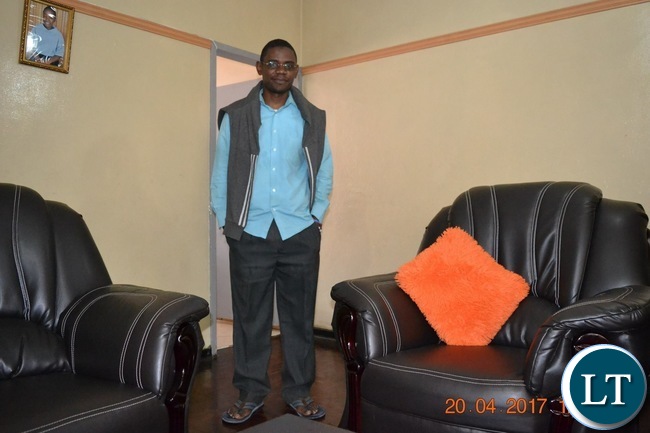 From the verbal aggressiveness of the Police, it was clear that, I was going in for a long haul of Easter holiday. I could tell that Bond was out of question so, I never bothered to even ask for it.
Being a man of faith, I accept whatever comes my way as if God has prescribed it for me for a purpose. So, I entered the cells with a positive attitude and open mind.
When I entered the cells, I was nicely welcomed by the inmates; among them were the four close associates (not cadres) of HH. Basically, I would not consider them as politicians because the 3 of them just work for HH like Amos Chanda. However, it is common practice that, you can't work with a politician if you are not a party sympathizer.
The other guy can be considered as a close friend of HH who had gone to visit him at his House but caught-up in the ambush.
Two of them were charged with Treason while the rest were in for Obstruction of Justice when the police were conducting an illegal raid at HH's house. I wonder who should be charged between one who is conducting and illegality and those were pleading for legality.
I really enjoyed the interaction and care I received from these gentlemen. Somehow, I feel like dropping my love for Eastern women and go Southwards because, Tonga women showed me that, they know how to care and love.
Our cells are usually overcrowded but not with real criminals who rob people at gun point, or the corrupt who have brought and sustained poverty in Zambia.
The most unfortunate, is that, the majority of the people in police holdings are young between the age of 16 to 23 years, at least these were the ones I found at Kabwata but I also spoke to the frequent offenders.
Many police officers, seem to enjoy their abuse of power to lock up people like treasury bond, which mature with the longevity. The longer people stay in cells, the more desperate they become to get out and they are ready to either pay a fortune or succumb to their oppressors, like in my case.
At times the cells are so full that, even sitting is a problem. Sleeping is always a nightmare, awashed by a strong stench from the filthy toilet without water. Inmates do not have the luxury of stretching legs while sitting or sleeping, unless you stand.
I found mostly liked to stand even at night because it was the only comfortable posture I could get. I adopted this habit because it kept my mind active and when I get tired, I could sleep for at least two hours.
This year, I have been so religious in following the mysteries (or events) of the life of Jesus so being locked up on Thursday before Good Friday, was an opportunity to share in the passion of Christ. I prayed most of the time and I shared the Pascal mysteries with my fellow inmates.
We usually prayed in the morning and in the evening. Standing up in the middle of the 2 x 3.5 meters cell parked with about 24 people, sited like squeezed bags of maize, was the best times of my time in the cells because it felt like the purpose of my presence among them. I gave them hope and spoke about God's love as I we reflected on the suffering and resurrection of Jesus.
I shed tears on the second day (Good Friday), because one of my children (not biological but orphan) who is 11 years old wrote me a letter expressing her emotions. This girl had just come home for holidays after closing school with best results at the entire school, when the police called me to Northmead to arrest me.
The police officer who called me cheated that, they had one of the street kids in custody so I rushed there before we could even eat lunch with these two children I had just brought home.
This daughter of mine, said that, she wished, Easter would be different being with me at home, unfortunately those with powers had their plans. My tears, just don't drop.
Unfortunately, my biological (two girls) children were among the last ones to know about my arrest. I don't want to subject my children to stress when I am going through difficulties but I always want them to live the realities of life, unless, it is beyond their age and it would not spill in the public. I don't want my children to hear anything about their father on News.
My street children, heard of my arrest and they launched a search to find me. They moved four police stations (Longacres, Kamwala, Town centre and Kabwata) on foot. They carried with them Bread and juice from the shop near my house, where we last got food on credit when I had no money.
Unfortunately, they could not see me at Kabwata because the police did not allow them. This morning they came and it was all joy as we laughed about their search and their attempt to go to a witchdoctor to secure my release using juju.
In cells, some people are sick and they get worse due to over crowdedness and negligence of some police officers. During my six days, we had 5 cases, two of which were HIV/AIDS related, one was epilepsy, the other one was fever. One boy had skin problem (like scabies) and two were badly beaten by the police and a mob.
Thanks to the officer-in-charge who responded positively to take one of the badly beaten to the clinic in the night while the rest, received little attention, especially the epileptic and HIV/AIDS patients who need to take medicines at specific times with a good diet. Likely, one was released on before I left.
The situation is really bad and I wish the police would be more professional in the way they handle their work because I think the congestion is owed that. Civil cases of debt, defamation, marital, personal conflicts among others, end up with people being locked up in cells by the police.
The human rights also, seem to be handicapped such that, the police don't even fear to do wrong things. Somehow, Human rights need to be capacitated and effectively deal with human rights abuses otherwise, bad police officers, like Mwami One are having a field day locking up people at whim.
I am glad that I spent those days in the cells because I have hands-on information and if I will ever lead this Country, I will know exactly what to do. Without Mwami One putting me in there for 6 days, I would have not known, therefore, thanks Mwami One. I am certain that, whatever happens in future, I am the one that gained out of the experience.
Economic and Equity Party (EEP) is really being prepared nicely to look after the plight of people and I ask for your prayers that God will give us a chance to hold power and do the right thing. I am human, and they say, power corrupts but with your prayers, I can do the right thing to change Zambia for the better.
I shall talk about my experience at Kamwala remand Prison later.
[Read 45 times, 1 reads today]